Jim Ross On The WWE Role That Made Him Work More Aggressively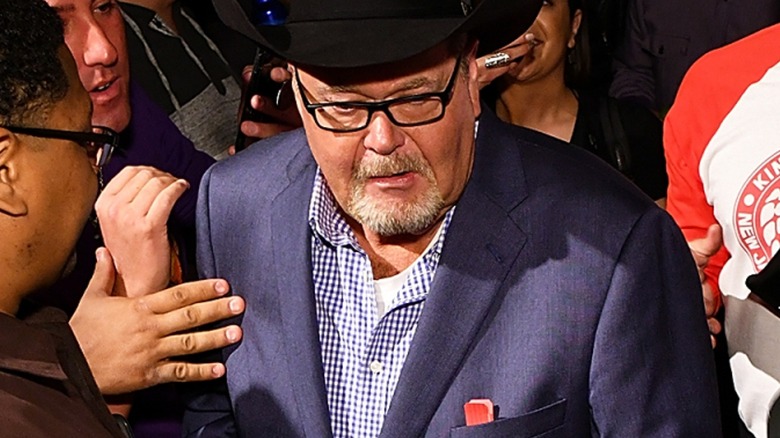 Slaven Vlasic/Getty Images
Jim Ross may be best known for his Hall of Fame career on camera as an announcer for WCW, WWE, NJPW, and now AEW. However, he arguably had just as much success in wrestling behind-the-scenes during the '90s and early 2000s, when he served as WWE's Executive Vice President of Talent Relations. Under Ross' watch, the promotion signed many talents that went on to become WWE's biggest stars, including the Hardys, Kurt Angle, Edge, Christian, Brock Lesnar, and more.
On the latest episode of "Grilling JR," Ross discussed his tenure as Head of Talent Relations, including his philosophy regarding the job. He also discussed what he felt differentiated him from James J. Dillon, who had previously held the position before Ross took it over in 1997 following Dillon's departure from WWE.
"I was probably more aggressive," Ross said. "I was a lot more in recruiting and looking at tapes and surrounding myself with guys who could go out and had life goals. If I wanted an amateur guy, if we saw an amateur someplace, like a Brock Lesnar for example, I'd stick Gerry Briscoe on them, because Gerry Briscoe came from that amateur wrestling world of Oklahoma State.
"We had a lot of guys chip in, and when guys saw that I was open to signing talent, it motivated them to bring those videos and I would meet with talent, and things of that nature. So I think I was probably a little bit more aggressive. Jan and I didn't have twins to take care of, so it worked out. It was the right place, right time."
If you use any quotes from this article, please credit "Grilling JR" with a h/t to Wrestling Inc. for the transcription