Sonny Kiss Discusses Representation And Becoming A Trailblazer In AEW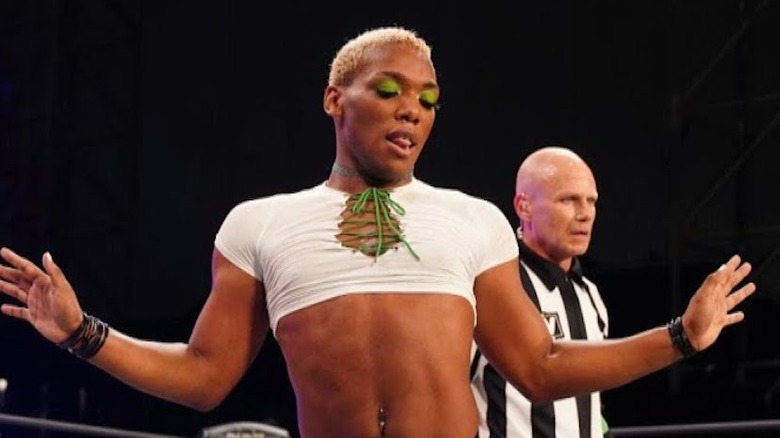 AEW/YouTube
All Elite Wrestling's Sonny Kiss has kicked down doors for others like her that don't conform to the traditional definitions of gender or sexuality. In a new interview with the BBC's LGBT Sport Podcast, Kiss says that she initially wasn't sure how to handle the responsibility of being a role model.
"As far as seeing myself as a 'trailblazer,' I'm a lot better with it now," Kiss admitted. "I can deal with hearing myself say that now. Before I would [hesitate]...That's high praise...people give me these titles and at first it was really, really hard to deal with but now I'm like, 'Ok. It's cool. It makes perfect sense.' Because I am, and I am the first of my kind." 
Kiss says she's been approached by fans that have emotionally told her that she's helped them come out to their parents in regard to their sexuality or their gender identity. According to the AEW star, she does not take that responsibility lightly. 
"It's very liberating to hear that," she said.
Kiss's television time has been limited during her tenure with the company. That being said, "The Concrete Rose" has been adamant that she's using what little TV time she gets to make her fans feel seen, remaining grateful for her position in the company, and crediting her own diligence and patience with keeping her focused.
"I would love to be used more in general," Kiss said in an interview last year. "I feel like eventually, it'll happen. I have been trying my best to be patient, wait my turn."

If you use any quotes from this article, please credit the LGBT Sport Podcast with a h/t to Wrestling Inc. for the transcription.