Traci Brooks Explains Why She Returned To Impact Wrestling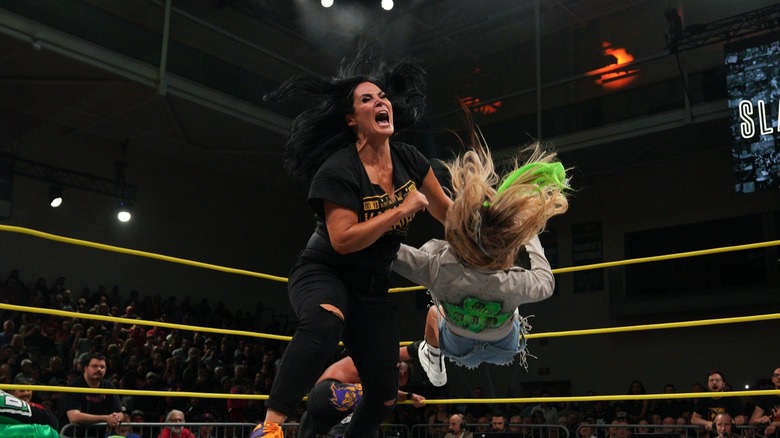 Impact Wrestling
Following her in-ring retirement in 2012, Traci Brooks remained away from the spotlight for over a decade, focusing on motherhood and family. All that changed at this year's Slammiversary where Brooks made a comeback to Impact Wrestling to stand in the corner of her husband, Frankie Kazarian, during his match with Eddie Edwards.
In an interview with "GAW TV," Brooks admitted that she agreed to return to wrestling as she did not have to wrestle an actual match. 
"It was old school," Brooks said of her return. "We did what we could do. I've been out of wrestling for almost 11 years, but it wasn't like we went in there and put on a five-star wrestling match. We went in there and did what I could — and that was to kick her [Alisha Edwards'] a*s, pull her hair, and get her the hell away from my husband."
Brooks admittedly got a thrill from engaging in an "old school catfight" that wrestling fans had not seen in a long time, albeit coming away "very sore" from the experience. When asked if she ever felt an itch to return to the spotlight, Brooks detailed a conversation she had with her husband before Slammiversary. "My husband asked me if I wanted to come and do this," Brooks revealed. "There were two reasons. One was, I always tell my son, 'The only regrets you have in life are the opportunities you don't take.' So, I couldn't say 'No' because of him."
Brooks revealed her son was pleasantly shocked to see his mother being featured in a Slammiversary video package where Kazarian vowed to "bring back the original knockout" to even the odds against Edwards. 
"He was so excited," Brooks said of her son's reaction. "He asked me, 'Are you scared?' 'Yeah, I'm scared, but I'm going to do it. I'm doing it for you,' and I did it for my girlfriend Tracy. She passed away almost a year ago. I live life for her."