Drew McIntyre Names WWE Hall Of Famer For Dream Match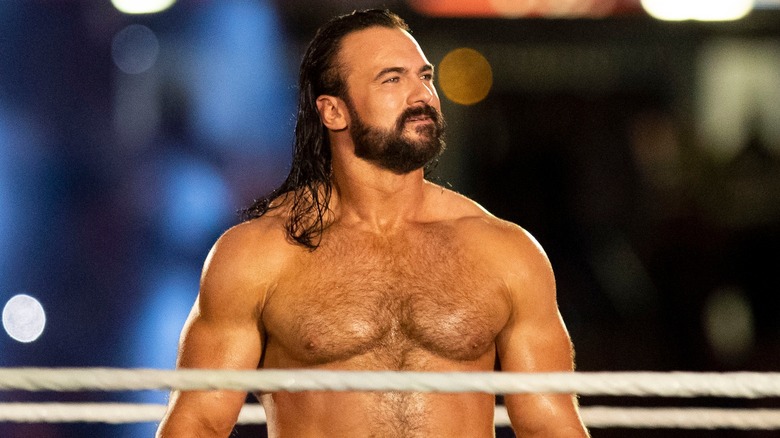 ComposedPix/Shutterstock
Drew McIntyre just got done challenging GUNTHER for the Intercontinental Championship at WWE Summerslam 2023. While his Austrian-born opponent have arguably elevated the IC title and McIntyre has praised GUNTHER, it's not what anyone would calla dream match for the Scottish Psychopath, a former Intercontinental Champion and WWE Champion in his own right. However, McIntyre did reveal his ultimate dream match with a certain WWE Hall of Famer.
During a recent interview on "Under The Ropes" podcast, the two-time WWE champion was asked if he "could have a match with a WWE Hall of Famer dead or alive who would it be?"
"I'll probably go with Bret Hart. He's been my favorite growing up," McIntyre replied. "He's had that believable style, we'd do some cool stuff in there."
McIntyre was then asked why was Hart so popular in Europe. "I'm not quite sure. He'd come out with a leather jacket and sunglasses and looked like a rockstar I guess," he said. "But, also that style, if you've ever seen UK/European wrestling, it was a very mat-based style and it was still in existence at the time when Bret was taking off. For me, I didn't really realize or didn't appreciate Bret as much as I do now until I started wrestling. I was like 'Oh I like watching Bret Hart.'"
He continued, "But when I started wrestling and understanding the way he structure his matches and the psychology, I was able to articulate a little bit better why I was a fan of his. You know you have the Hulk Hogans and the Ultimate Warriors at the time, these larger-than-life charismatic guys and Bret with his in-ring style was so believable, he told such a compelling story."
Would you want to see Drew McIntyre have a match with Bret Hart in the ring?