Booker T Responds To Ricochet Wanting To Add Axe Kick To His WWE Move Set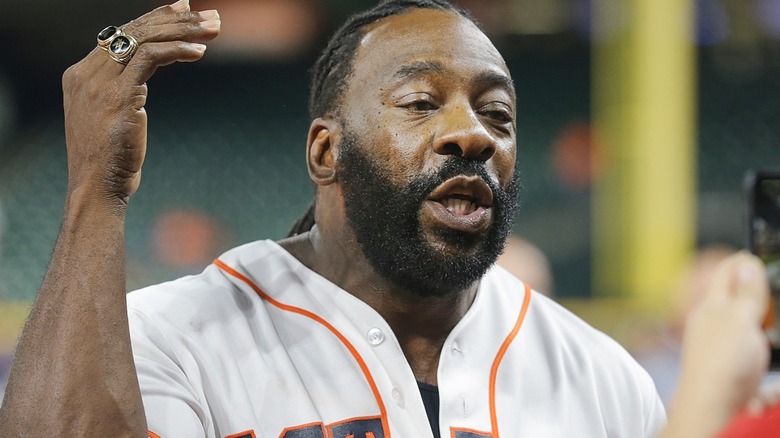 Bob Levey/Getty Images
Ricochet recently revealed that he'd like to add Booker T's Axe Kick finisher to his own arsenal, but how does the veteran feel about it? During his latest "Hall Of Fame" radio show, the two-time WWE Hall Of Famer gave him his blessing to use it.
"Take it and run with it," he said. "Run with it and make it your own, put your own flavor on it."
Booker T had several finishers over the years, from the Harlem Hangover to the Book End, but he did transition to using the Axe Kick in WWE. He revealed that the decision was made because it was the easiest thing he could do.
"I could do it with anybody, I didn't have to think about it, I couldn't mess it up," he said. "Even if I was tired and couldn't stand straight up like I normally would do. Sometimes I would do it and hit it and stand straight up, sometimes when I was tired I would hit it, spin-off, and then go to the mat, but it still looked just as good, just as effective."
Now it remains to be seen whether Ricochet does take on the move, but Booker T has been impressed with the growth he has seen in the former Intercontinental Champion. He believes that Ricochet is maturing and learning what the business is truly about.
"I always talk about guys like Ricochet who can do everything in the squared circle, but they may not be the guys working at the top of the card," Booker T said. "I want to see Ricochet working at the top of the card and to be able to do that you've got to do certain things, and I see Ricochet picking up on those things, perfectly."
If you use any quotes from this article, please credit "Hall Of Fame" with a H/T to Wrestling Inc. for the transcription.