Arn Anderson Comments On Working Relationship With Eric Bischoff During WCW Run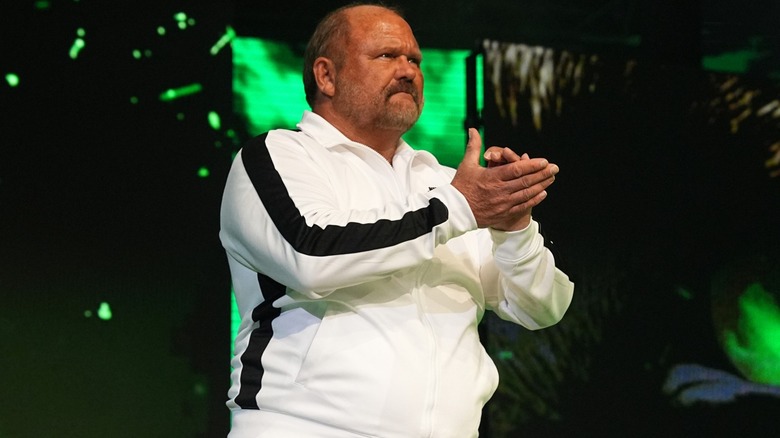 AEW
Arn Anderson was a key player in WCW from the 1980s until the company closed in 2001. He had one brief stint in WWE during that time, but for the most part, his career is synonymous with the Atlanta, Georgia-based promotion. As such, he was used to working with Eric Bischoff, who began his WCW career as an announcer before rising to the top as an executive.
Anderson was there to witness Bischoff's ascent, and he felt that they had a good working relationship from early on. Furthermore, the Four Horsemen member praised Bischoff for one of his jobs that often gets overlooked.
"The thing that gets lost a lot of times is, Eric was a really good announcer," Anderson said on his "ARN" podcast. "And I enjoyed, in those days I was getting plenty of promo time. I enjoyed working with Eric, who set you up perfectly and would lead you in."
Anderson said that he felt that he had a good working relationship with Bischoff long before he was given an executive position in WCW. He also noted that Ric Flair endorsed Bischoff taking charge of WCW early on, even though their relationship eventually became less than stellar.
"I just remember very clearly [Flair] saying, 'Bischoff is the guy for the job. He's going to do a good job. I don't know if that ever gets mentioned, but he said to me, and this was in the very beginning."
Anderson also praised Bischoff for being a "hands-on" executive who was at television tapings all the time and ingrained in the process. According to "The Enforcer," he was the first executive he noticed to be so involved in the shows.
If you use any quotes from this article, please credit "ARN" with an h/t to Wrestling Inc. for the transcription.