Jeff Jarrett Comments On Upcoming Death Match With Jeff Hardy On AEW Dynamite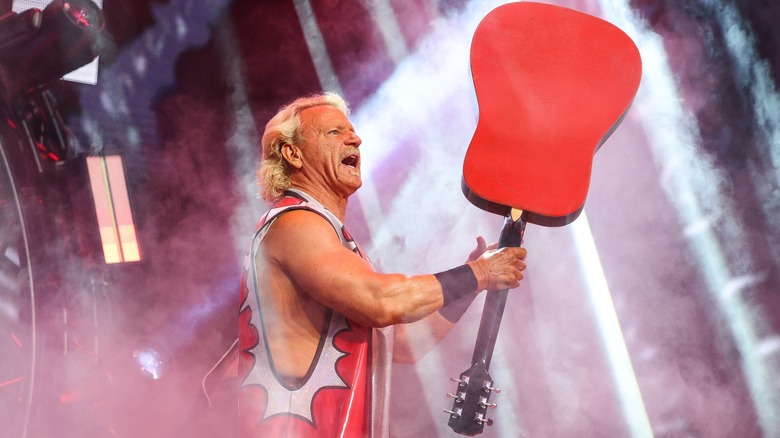 AEW
The 56-year-old Jeff Jarrett is very excited to renew his rivalry with an old foe, the 45-year-old Jeff Hardy, on the upcoming episode of "AEW Dynamite," where the veteran wrestlers will do battle in the first-ever Texas Chainsaw Massacre Death Match Championship. 
As per a video released by AEW, the match will be part of "a sponsorship deal" between AEW and Sumo Digital, the developers of the upcoming "Texas Chainsaw Massacre" video game, and could feature a cameo from Leatherface, the deranged character from the popular "Texas Chainsaw Massacre" franchise.
On a recent episode of his "My World with Jeff Jarrett" podcast, Jarrett once again teased a possible appearance by Leatherface, while hyping up his match against Hardy. 
"It is absolutely a very cool integration with the game coming out in just a few days," Jarrett said. "It's a very cool deal. Everybody has heard of 'Texas Chainsaw Massacre,' but coming out in a video game form ... Death Match — didn't think I had that on my bingo card, either. I dabbled in [death matches in] GCW a little bit, I'm sure [Matt] Cardona is gonna have something to say about this. But, yeah, me and Nero Hardy one-on-one."
"Rumor has it that Leatherface is gonna be involved," Jarrett added. He doubled down that AEW fans were about to witness "the real Leatherface" and not a knock-off version of the character, implying that the makers of the video game and film series had green-lit a cameo from the murderous villain. 
Hardy and Jarrett last wrestled in a singles bout at TNA's Final Resolution pay-per-view in 2011, where they ended their year-long rivalry inside a steel cage.