Why WWE Hall Of Famer Alundra Blayze Says The Wrestler 'Scared The P*** Out Of' Her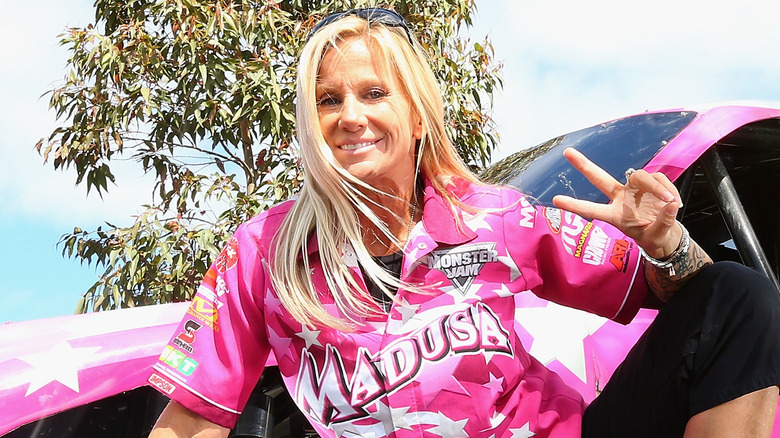 Quinn Rooney/Getty Images
Anyone who has seen the 2008 Darren Aronofsky film "The Wrestler" is already aware that it offers a very grim portrayal of independent wrestling. Appearing on the "GAW TV" podcast, WWE Hall of Famer Alunda Blayze, also known as Madusa, discussed her initial reaction upon seeing the movie, having already retired from wrestling nearly a decade prior.
"When I first saw ['The Wrestler'] way back when, ... I turned to my husband and I said, 'There's no effing way I'm ever doing that," Madusa said. "It scared me to death, like when I saw that movie and you saw ... the old men and ladies ... around the table with the catheter bags and were signing, were just waiting for a few bucks. I was like, 'Oh my God, I so don't want to do that.'" Madusa revealed that she didn't look back after leaving the world of professional wrestling to become a monster truck driver — a career she saw great success in, retiring just a few years ago in 2020.
"I never even watched a [wrestling] show from 2001 up until I was inducted into the Hall of Fame," Madusa continued. "That movie scared the p*ss out of me."
Co-host Mickie James had a similar reaction to the film. The character of Randy "The Ram" Robinson reminded James of a number of veterans from the independent circuit; the kind of performers who used to be marquee names but were now struggling to make a living in their later years.
"It's so, so sad," James said. "You tell [wrestlers] to save their money, but it's the first time that a lot of them have had money, so what do we do with it? We spend it."
If you use any of the quotes in this article, please credit "GAW TV" with a h/t to Wrestling Inc. for the transcription.