Sami Zayn Opens Up About Nagging Elbow Injury Recently Highlighted On WWE Raw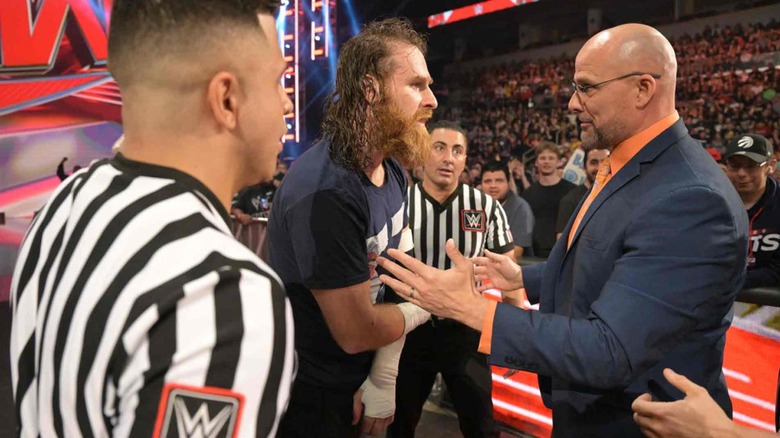 WWE
On a recent episode of "Out of Character," Sami Zayn disclosed details of his elbow injury that has been a subject of discussion in recent episodes of "WWE Raw." Earlier this week, Zayn got his revenge on JD McDonagh by defeating him in a singles bout, a week after the latter ambushed the WWE Undisputed Tag Team Champion in a backstage segment. 
However, throughout the match, Zayn sold his elbow injury, bringing to question the seriousness of the same.
"I'm wearing a compression sleeve right now but you can still see the ball sticking out," Zayn said. "It's not great — I've actually had a lot of issues of late that I'm just battling through. It's funny when I watch sports — hockey players or whatever, after the playoffs are done, you'll be like, 'Oh, this player was playing with three broken fingers or whatever' and all these insane injuries they're playing through. As I viewer, I just assume everything is fine.
"I've been battling along little nagging injuries for some time," Zayn informed. "But nothing that would put me on the shelf. This is part of a nagging injury that has gotten a little bit worse, after this past week's heinous attack by JD McDonagh, for which there will be revenge."
Zayn noted that despite battling a few injuries, he feels "healthy overall" but admitted that he may not have "another 21 years" left in his career after spending over two decades wrestling for promotions such as PWG, ROH, and WWE. He added that he feels "closer to the end than the beginning" and as such, realizes the importance of maintaining his health through various nagging injuries. 
"My elbow is alright, it's not great, but it will be okay," Zayn concluded.
Meanwhile, Zayn's tag team partner, Kevin Owens, has been out of action for nearly a month with an injury, the details or severity of which have not been disclosed.