Impact's Gisele Shaw Describes Her Growing Bond With Gail Kim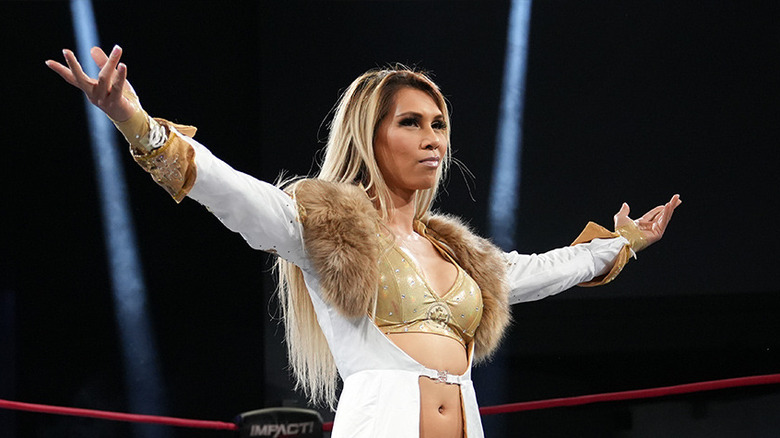 Impact Wrestling
Gisele Shaw has been a member of the Impact Wrestling roster since January 2022. "The Quintessential Diva" recently opened up about bonding with Impact producer Gail Kim while participating in the ninth season of "The Amazing Race Canada" reality show. 
"I got to share weeks with Gail," Shaw said on SiriusXM's "Busted Open Radio" show. "She's someone I've looked up to growing up. Sharing the same locker room with her is a dream. Spending three weeks with her and actually getting to know her personally on a deeper level, it's like, 'Woah. I'm getting to hang out with Gail frickin' Kim.'"
"Our bond, I feel, has grown bigger, stronger," Shaw added. "We were locked in a room together. You don't go to a hotel. Everyone's like, 'Oh yeah, whatever. Everyone has separate hotels.' You're locked with this person. And during training week, it was one week of her and I just in a room. We weren't allowed out, by the way, so we had to just stay in the room, order in, whatever. 
"It's these moments when you get to talk. Like, when you go to work, you don't have time to really talk but just work because everyone's so busy, everyone's on the go. So I think this was an opportunity for Gail and myself to just really, like, who is Gail Kim? Who is Gisele? Not the performer, but Gisele the person."
It was announced in June that Shaw and Kim would be appearing on the new season of "The Amazing Race Canada." During her appearance on "Busted Open," Shaw said the experience had been amazing, but it was "really, really hard." Shaw and Kim were the first pair to be eliminated from the race in Calgary, Alberta, Canada. 
If you use any quotes from this article, please credit SiriusXM's "Busted Open Radio" with an h/t to Wrestling Inc for the transcription.