Madusa Recalls Time Jake Roberts Trapped Her In A Dressing Room With A Snake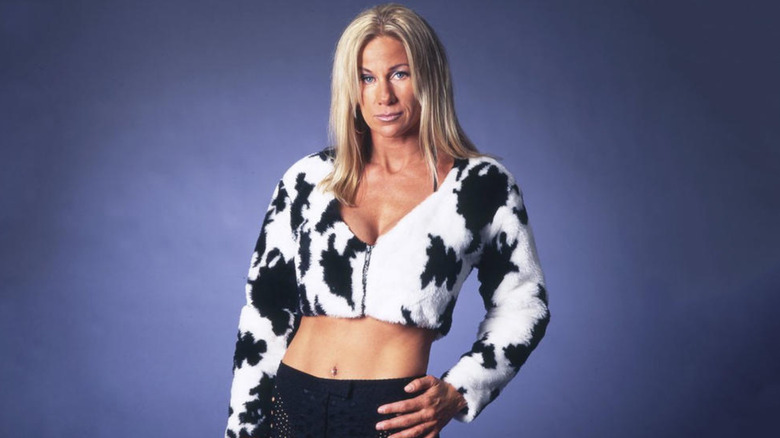 WWE
Despite their paths rarely crossing on-screen, WWE Hall of Famers Madusa and Jake "The Snake" Roberts formed a friendship behind-the-scenes. On a recent episode of "The Snake Pit," Madusa chronicled one of her earliest memories with Roberts, which she believes occurred during an overseas tour for John Arezzi's International Wrestling All Stars show in the early '90s.
Madusa recalled that the tour featured the likes of Greg "The Hammer" Valentine and The Bushwhackers. Before the wrestlers went on to entertain the fans, Roberts was keen on entertaining himself at the expense of Madusa, who was in the midst of changing her clothes in her dressing room. Unfortunately for Madusa, she was interrupted by a pair of surprise visitors — Roberts and his pet snake.
"I was like in my room dressing, and all of a sudden, I hear the door open, and there's Jake standing there laughing his ass off. [He] threw his snake in there and shut the f'n door," Madusa said. "And I was like, 'Oh, hell no.' Here I am, t*ts and ass busted out. And I'm like, 'What the f***?' You can hear everyone out there probably busting a*s laughing. And I'm sure it was funny. You got to admit. Those kind of ribs are the shiznit."
Slithering Up The Wall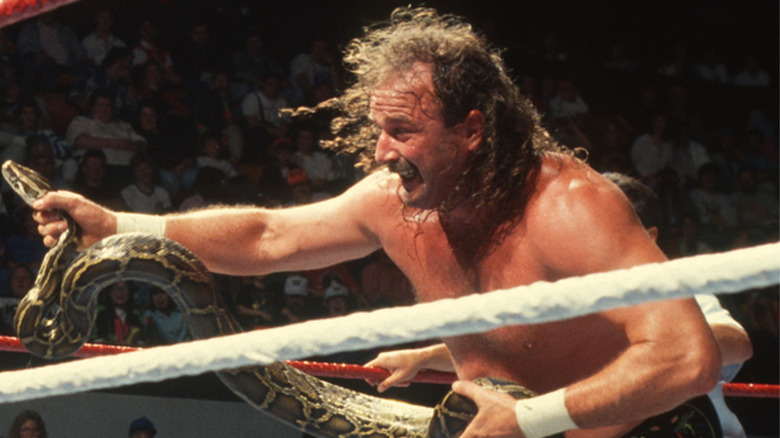 WWE
Madusa recalled how she climbed the walls to stay away from the snake, and that Jake Roberts later came to remove it from the dressing room.
"Here I am, there's no bumps in these walls. They're flat walls," Madusa explained. "I climb the wall to get rid of that snake, and I got up there and I was hanging by the pipes. And I'm like, 'Jake, you son of b****! Damn it.' All of a sudden I look, this snake is crawling up the frickin' wall. How does a round snake slither up a wall? And here he comes [slithering up], and I just start screaming. That was it. [Jake] came in and he got the [snake down, and I said] 'Hi, nice to meet you, Jake.' Then that's when I started to really know Jake and all his shenanigans."
Roberts has previously narrated various incredible anecdotes about working with snakes, but now wants to work with mechanical snakes rather than real ones. Following Roberts' prank, Madusa revealed the two grew closer. She holds Roberts' professional work in high regard, calling him a master of his craft inside the squared circle, especially his in-ring psychology.
If you use any quotes from this article, please credit "The Snake Pit" with a h/t to Wrestling Inc. for the transcription.