AEW Star Jeff Jarrett Opens Up About Renewed Passion For Wrestling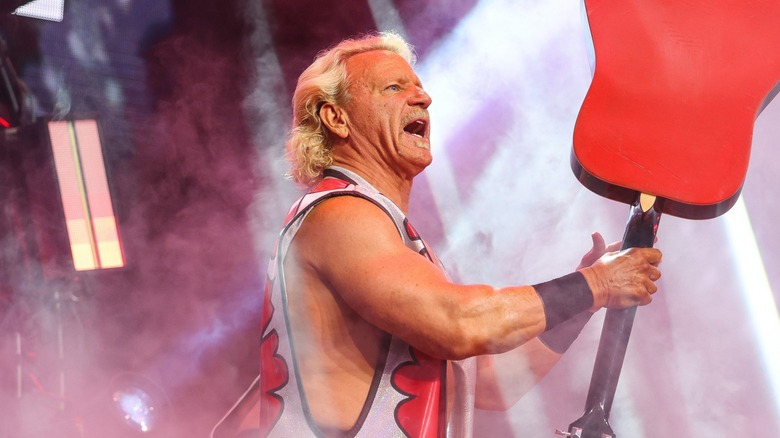 AEW
Jeff Jarrett is enjoying a high-profile run in All Elite Wrestling, where he recently won the "Texas Chainsaw Massacre" Death Match Championship. At 56 years old, it'd be understandable if he wanted to hang up his boots; however, the WWE Hall of Famer is too passionate about wrestling to consider that right now.
While speaking to "The Chase McCabe Show," Jarrett explained that he loves the business more than ever. Furthermore, this love for the industry is why he's been able to keep reinventing himself.
"I've got a passion for the industry today now more than ever, Chase... I truly love professional wrestling more today than I did when I broke in... I'm still the biggest wrestling fan I know. I'll watch all brands, all promotions. I'm a YouTube guy that just dials in, and I'll watch any [wrestling] no matter how big or small it is."
Jarrett went on to say that this passion drives him, and staying connected to the audience goes a long way. Additionally, he says that he's kept in great shape these past couple of years, which has helped him achieve longevity in the industry and allowed him to work for successful promotions all over the world.
"About two years ago — and I've always remained in relatively good shape — but I really made up my mind that I'm gonna get into the best possible shape. And I feel that's where I am today, believe it or not.
If you use any quotes from this article, please credit "The Chase McCabe Show" with a h/t to Wrestling Inc. for the transcription.