Sami Zayn On Bringing His Personal Life Into Wrestling At WWE Elimination Chamber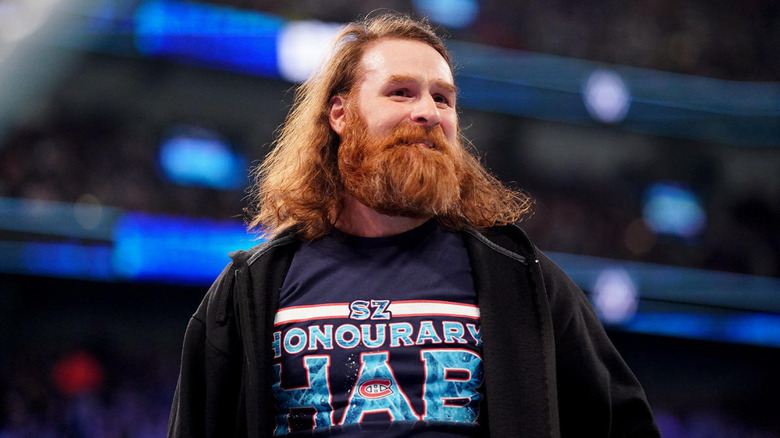 WWE
Earlier this year, Sami Zayn headlined the Elimination Chamber premium live event in his hometown of Montreal, Quebec, Canada, unsuccessfully challenging Roman Reigns for the Undisputed WWE Universal Championship. In an interview with Ryan Satin for the "Out of Character" podcast, the former "Honorary Uce" was asked if he found it challenging to be more open about his personal life prior to that title match.
"I was apprehensive for a very long time," Zayn said. "And I still am. I'm still, overall, a pretty private person. I don't know; something about it feels wrong to me. I don't know. I guess this is a layered question because there's many different facets about it which I think have not felt right. So first and foremost, my wife, my child, whoever, any family member I have, they didn't sign up for this. I did. 
"So I, over the last 20 years, have built a certain armor to where you could hear negative comments and you could kind of deflect. They bounce right off you. And even then, every now and again, you'll come across something where it gets to you. It really doesn't matter who you are."
'I just don't want to subject people in my life to that'
WWE
"You can tune out most negative comments, but every now and again, one will get you," Zayn added. "And I'm used to that, even though by and large the internet has been very nice to me throughout my entire career. 
"My point being, it's still something I kind of signed up for, and it's part of the territory. So for someone who didn't ask for it and who's probably not equipped emotionally to handle total strangers making ruthless comments about their whatever, about their existence, about their appearance, about anything, I just don't want to subject people in my life to that.
"And there's the other aspect of it, which is not everything needs to be commodified in a way that I'm using it to sort of leverage for popularity. Like, 'Oh here. Let me give you access to a window of my personal life so that you could like me more [or] so that you could connect with me more.'"
'I'm a bit old school'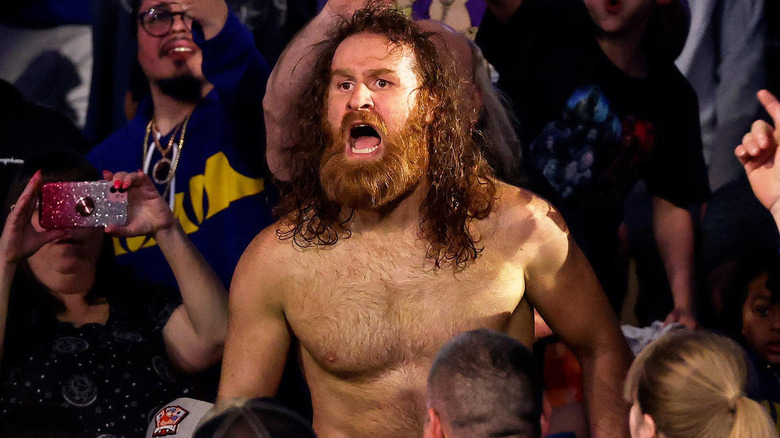 WWE
"I don't know. I'm a bit old school in that here's the performance, here's what I'm presenting to you, and that's what you get," Zayn continued. "Whether you like me or dislike me will hopefully be based by and large on what I'm presenting."
Before Zayn's Undisputed WWE Universal Championship clash with Reigns at Elimination Chamber, the "Tribal Chief" stated that he would punish Zayn in front of his family. Reigns was seeking revenge after Zayn turned on him and The Bloodline at the Royal Rumble premium live event. Zayn's wife, Khadijah, was featured in a special Elimination Chamber 2023 Diary video on WWE's YouTube channel prior to the title bout taking place.
If you use any quotes from this article, please credit "Out of Character with Ryan Satin" with a h/t to Wrestling Inc. for the transcription.