Wrestling World Reacts To The Death Of Terry Funk
George Napolitano/Getty Images
News of the death of wrestling icon Terry Funk at the age of 79 broke earlier today, unleashing a torrent of tributes from a grateful wrestling world that would likely not exist without his contributions.
"A day I wish would never come," Blue Meanie wrote, sharing a photo of Funk with the ECW roster. "Thank you Terry Funk for what [you] did for wrestling. Thank you for helping ECW. Thank you for being kind to me. I love you." Funk was responsible for bringing a level of credibility to ECW in its early days of operation, which was rewarded when he won the ECW World Championship at the promotion's first PPV, Barley Legal in 1997. Fellow ECW veteran Lance Storm was at a loss for words Funk's death.
I will say more eventually. This one hits hard. RIP Terry Funk. A pleasure and honour to know you. Respect always. pic.twitter.com/psSsKFWOlR

— Lance Storm (@LanceStorm) August 23, 2023
WWE Chief Content Officer Paul "Triple H" Levesque wrote "Every night in cities all over the world, Terry Funk left it all in the ring for our business and for the fans. An icon of our industry," before sending his condolences to Funk's friends and family.
"Truly heartbroken over this," AEW's Dustin Rhodes wrote. "He has known me since I was a child. He was an incredible mentor and friend." Rhodes's brother, Cody, also shared a tribute to Funk, simply writing "The Funker." 
An influence of a generation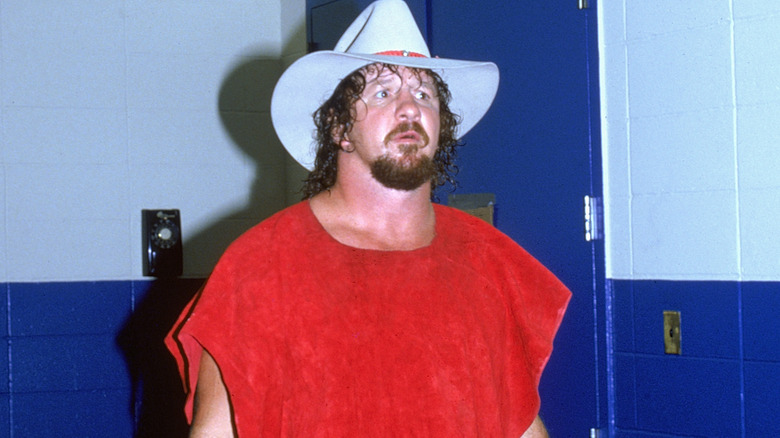 B Bennett/Getty Images
Funk was a world-traveled competitor, and according to William Regal, he crossed paths with the former Blackpool Combat Club mentor, with Regal noting that he treasures his memories of Funk.
Former WWE Champion AJ Styles broke his usual rule about not posting about a person's death, but noted that he made an exception as Funk "will always be absolute legend." AEW's Frankie Kazarian shared a photo of Funk and Kazarian at a Cauliflower Alley Club event where Kazarian was honored, writing that Funk was "an influence of a generation." 
The words "great" and "legend" are thrown around way too frequently. Terry Funk was both of those things and SO much more. An incredible and unique talent. An influence of a generation. An absolute gentleman. A man I was honored to have been friendly with. Godspeed sir. 😞 pic.twitter.com/IViVSGByMd

— Frankie Kazarian (@FrankieKazarian) August 23, 2023
ROH broadcaster Ian Riccaboni shared a GIF of Funk's famous farewell speech in Japan, where the bloodied WWE Hall of Famer yelled "Forever!" over an over again. Funk, at the time, assumed he was leaving Japan for good, but ended up returning many times in a potent metaphor for his seemingly endless ability to reinvent himself.
Many other wrestlers, including Bronson Reed, Damian Priest, and Dolph Ziggler, shared photos of Funk during his career, opting to not eulogize him in text. "WWE NXT's" Joe Gacy said Funk was "one of the nicest most genuine people out there" during Gacy's sole meeting with the legendary Texan, while Drew McIntyre repeated the famous "FOREVER" chant that Riccaboni referenced, as did AEW World Champion MJF.
As of publication, more tributes are still being contemplated, written, and posted, which speaks to the immense impact that Funk's life and career had on the professional wrestling business. Wrestling Inc. sends our condolences to the friends, family, and fans of Terry Funk.