Heels Season 2 Episode 5 Recap/spoilers: Who The Hell Is The Condamned?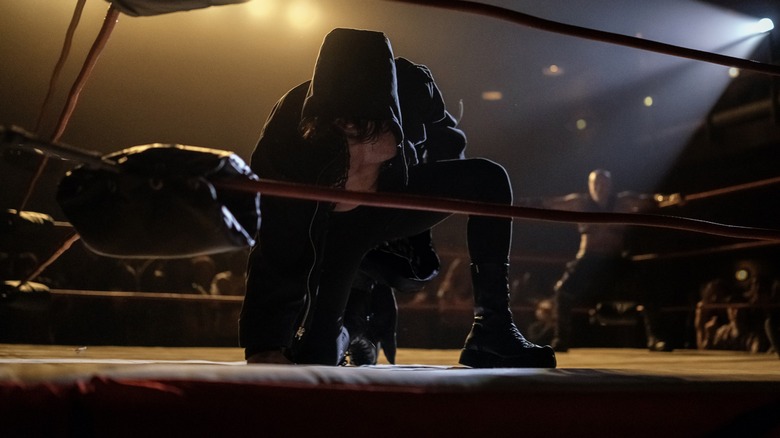 STARZ
"Heels" Season 2, Episode 4 saw Ace Spade (Alexander Ludwig) return to the Duffy Wrestling League following his recent existential crisis and night in the woods; however, he's no longer the naive young man who got Kleenex thrown at him in Season 1. His new character is a hooded vigilante called The Condamned, a Sting-esque soldier of justice who's come to save the promotion from the Florida Wrestling Dystopia's invading forces. That's because Jack Spade (Stephen Amell) and Charlie Gully (Mike O'Malley) have agreed to do a big cross-promotional event and settle their real-life heat through the medium of sports entertainment.
Last week's episode also saw the DWL introduce a women's division along with a title for it. Crystal Tyler (Kelli Berglund) is the inaugural champion, but the veteran journeywoman El Dorado (AJ Mendez) has been brought in to add some depth to the new project. Elsewhere, Staci Spade (Alison Luff) caught Willie Day (Mary McCormack) handing over a stack of cash to a county representative, suggesting that the DWL is in financial trouble.
With that in mind, "Heels" Season 2, Episode 5, "Who the Hell is The Condamned?" has some questions to answer. On top of that, we might even see a cameo from an AEW star who isn't CM Punk.
The Condamned is over with the fans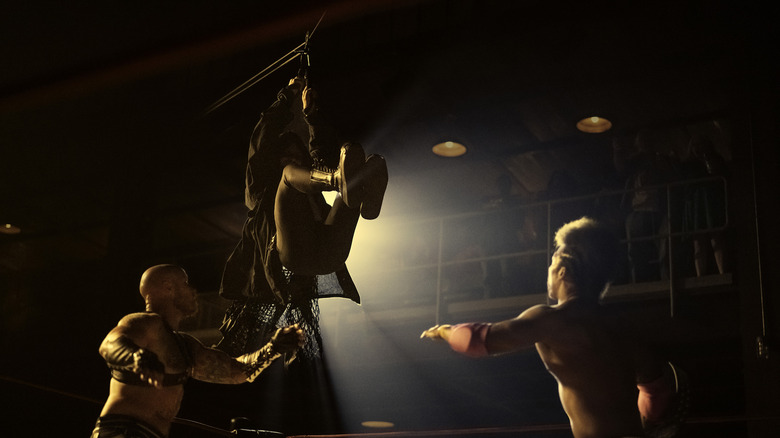 STARZ
Episode 5 picks up immediately after the events of last week's show. The Condamned stands in the ring while the DWL fan base chants his name, confirming that Ace's gimmick change has been a success. Unfortunately, his triumphant comeback doesn't go down too well behind the scenes, as Ace's peers are unhappy with him for keeping his return a secret from them.
However, Ace does set out to make amends with his colleagues. He immediately apologizes to Big Jim (Duke Davis Roberts) for being a bad friend to him recently, and he agrees to go see his goddaughter. We then cut to Crystal and El Dorado following their match, and their bond appears to be growing stronger. Crystal says she'll push for the journeywoman to return to the DWL, and El Dorado encourages her new friend to keep working on her in-ring skills.
Of course, it doesn't take long for Jack and Gully to start butting heads again, but their relationship isn't as hostile as it was when they were brawling and talking about lawsuits. The latter is furious because The Condamned made his top FWD guys look bad, so he demands that Ace appear at one of his company's shows and get his butt kicked to even the score. Backstage politics, right?
Keeping it in the family business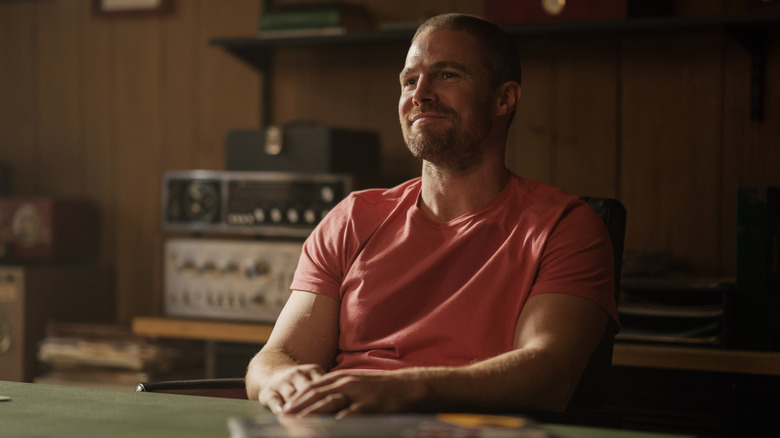 STARZ
Jack and Staci's marriage has been rocky lately as he's been neglecting his duties as a husband and father to focus on running a backwater South Georgian independent wrestling promotion. With things about to get busier at the DWL, Jack asks Staci to work alongside him, which she agrees to do. She also tells Jack about Willie giving money to the woman from the county.
Speaking of Willie, she isn't in a good mood in this episode, but isn't that always the case? Crystal wants to host tryouts for more women to join the DWL and beef up the new division. However, Willie tells her to take the week off and cut a promo instead, before snapping at the rising star for showing ambition. Bobby Pin (Trey Tucker) notices the exchange and tells Willie to stop being so mean to his new love interest.
Elsewhere, Rooster Robbins (Allen Maldonado) finds himself playing peacekeeper between Gully and Jack. He tells Gully that he should let The Condamned get over at the expense of the FWD roster, as it will lead to a big-money match that will pay off for the promotion in the long run. Basically, the plan is to eventually have Rooster go over Ace's new character, which will benefit the FWD when it's all said and done. That might be difficult, however, as Ace tells Jack that he has no interest in going to an FWD show as their fan base won't understand his character's nuances.
It's understandable why Gully wants his product to look strong, though. A media company called Continuum is potentially interested in adding FWD content to its programming schedule, and its representatives want to meet up with him to discuss business.
Crystal visits her mom, Wild Bill apologizes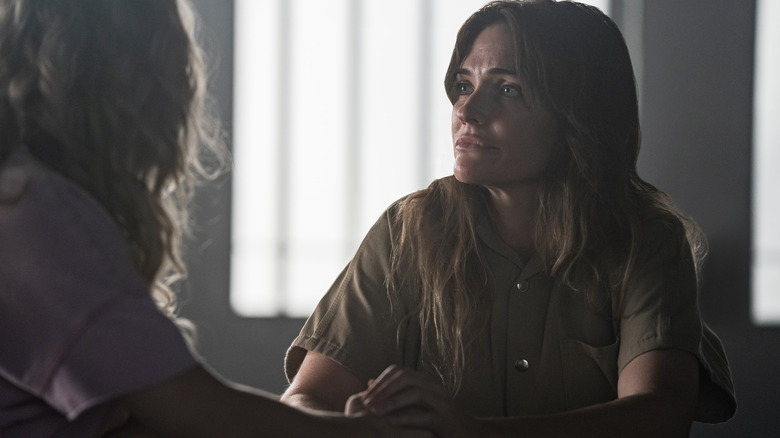 STARZ
Until now, Crystal has mostly kept her personal life to herself. However, Episode 5 sees her visit her mom in prison, where they talk about her recent wrestling successes and have a heart-to-heart. It isn't a feel-good visit, though, as her mom is full of regrets about not being there to support her daughter throughout the years.
"Wild" Bill Hancock (Chris Bauer) also has regrets, but he doesn't know about them until Diego Cottonmouth (Robby Ramos) raises concerns about their working relationship. In short, Diego feels that he's being exploited by the veteran, especially when it comes to their podcast. This is a wake-up call for Bill, who tells his friend that their audio adventure will be called "The Wild Bill and Diego Cottonmouth Podcast" moving forward. This little gesture is all it takes to bring Diego back on board.
The show then cuts to a meeting between Continuum executives, whose members have mixed thoughts about adding wrestling to their platform. However, the company's head honcho, Jennifer (Emmy Raver-Lampman), agrees that she can become a fan of the pugilistic arts if there's money to be made. It seems that Gully will have to make a strong case if he's going to land a deal for the FWD, though.
Finally, Staci confronts Willie about the aforementioned money exchange between her and the county rep. According to Willie, the DWL is in trouble and she needs to get her hands dirty to keep the company afloat. Tom Spade (David James Elliot) died with lots of debt to his name, and she's essentially been tasked with cleaning up his mess. Jack isn't aware of what's going on, but Staci wants Willie to clue him in so that they can figure out a solution together.
The gang visits Florida Wrestling Dystopia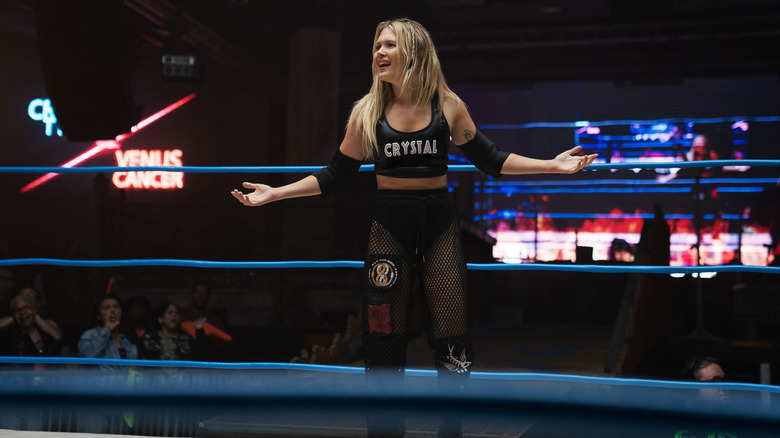 STARZ
With the big cross-promotional event coming up, Rooster calls out The Condamned to appear at an FWD show. Willie suggests that Crystal should make an appearance as well, giving her something creatively fulfilling to do in the process. Willie also tells Crystal that she was right about needing to beef up the DWL's women's division, and the latter is grateful.
At the FWD show, Crystal finds herself booked against a competitor called Venus Cancer (Serena Deeb). Crystal manages to overcome her opponent, but Gully comes out afterward and offers to make her a star. All she has to do is leave the DWL and sign a contract with his promotion. Crystal responds by slapping him and calling the promoter a "bottom-feeding maggot," which doesn't go down well with the man who refers to himself as "God." 
Moments later, Crystal finds herself surrounded by his roster (which includes Aron Stevens, Nick Aldis, and Jordynne Grace), but Jack rushes to the ring to back the DWL Women's Champion. It's all a swerve, though, as Crystal proceeds to lowblow Jack and accept Gully's offer (in kayfabe, of course). Fortunately, The Condamned is in the house to assist his sibling during his time of need.
The episode ends with a Continuum representative asking Willie about Crystal and the Spade brothers. It appears that the media conglomerate now has eyes on the DWL, and it'll be fascinating to see how Gully responds to this development.