Why Cody Rhodes Says He And WWE Are 'Tailor Made' For Each Other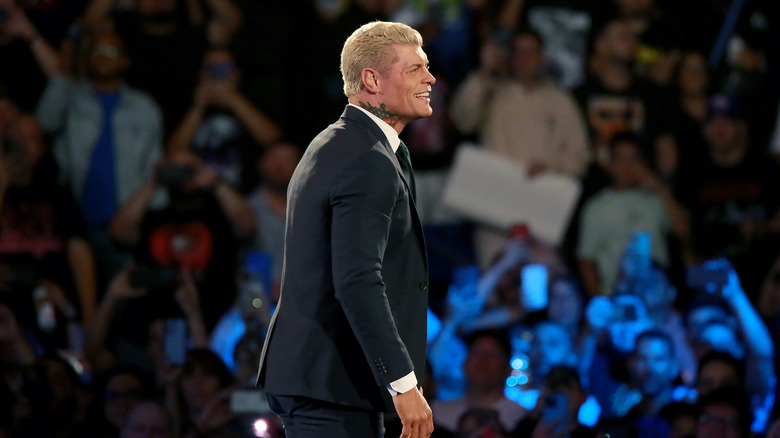 Gladys Vega/Getty Images
Cody Rhodes has taken to his second tenure in WWE like a duck to water. In a new interview with "After The Bell," Rhodes said that WWE and he are simpatico, especially in the way the want to examine every detail.
"The things that I appreciate for WWE is we're almost like tailor-made for each other in the sense that I am a control freak," Rhodes explained. "I really wanna have a say in what my merch will look like. I also want to see how well that's doing in every single market, not just a general conversation every week, every single market, not unlike I watched Cena do." Rhodes says that, for each part of his presentation he wants to focus on, WWE has a department, and he's now mature enough to introduce himself to the various production staff that make WWE programming possible.
"When I was here the first time, I went two years before I introduced myself to Marty the Cameraman," Rhodes confessed. "Two years before I knew Stu on the floor...I just was immature and flying at a million miles an hour and not knowing what's what and how important everybody is."
Rhodes says he tends to stay after shows longer than the production staff is comfortable with but Rhodes appreciates that the "big machine" of WWE is willing to accommodate him in that way, noting that many of the stars and higher-ups of WWE are not 9-5 workers that clock in and clock out, referring to professional wrestling as a "passion industry." Rhodes says that he'll still be texting Vice President of Creative Writing Ryan Ward at 11 p.m. or on vacation. 
The former AEW TNT Champion enjoys how well he fits into WWE but misses the office he used to have in AEW, which he says was more for hanging out with friends and decompression than any kind of real business.
If you use any quotes from this article, please credit "After the Bell" with a h/t to Wrestling Inc. for the transcription.