AEW Champ MJF Describes The Most Insufferable Kind Of Wrestling Fan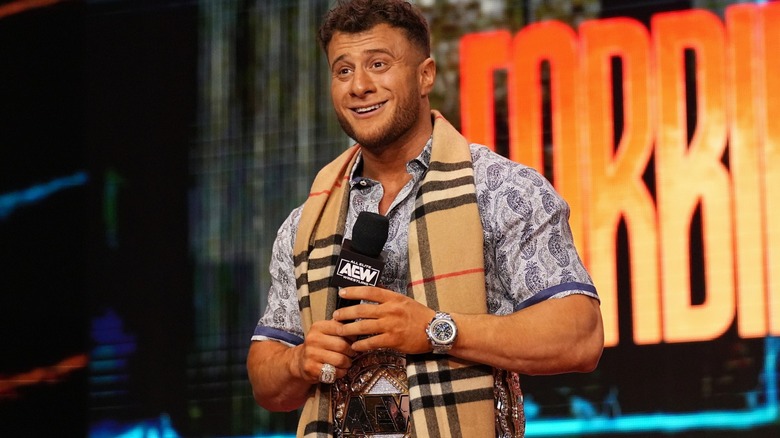 AEW
MJF may be winning over fans with his vulnerable side, but some of them will never win over the AEW World Champion. On an episode of Hot Ones' "Truth or Dab," MJF was asked about the worst type of wrestling fan, and rather than demure and take a dab of intense hot sauce, MJF unloaded on one specific sub-group of supporters.
"So the ones that wait at the airport for an autograph and a photo," MJF exclaimed. "I know damn well have you chubby worthless poors aren't going to the show because A. you can't afford it and B. you're scum. So what they do is they just hide out and they think they're slick." 
MJF went on to do an impression of a fan asking for 70 autographs at an airport. However, the collectors aren't the only fans that draw MJF's ire.
"Wrestling fans who actually think they understand how hard and how difficult it is [are also the worst]," MJF explained. "This sport –and yes I'm using the word sport– is so incredibly painful and the things we put our bodies through is insane." MJF said that any fans waiting for him at the airport should think twice about asking for his John Hancock. 
"It's not gonna happen."
MJF recorded the interview before his historic main event match against Adam Cole at AEW All In, where the champion defended his title –despite interference from Roderick Strong– in front of over 81,000 fans in the biggest ticketed wrestling event in the history of the business.