Jeff Jarrett On Windham Rotunda's Development, Originality Of WWE Character Bray Wyatt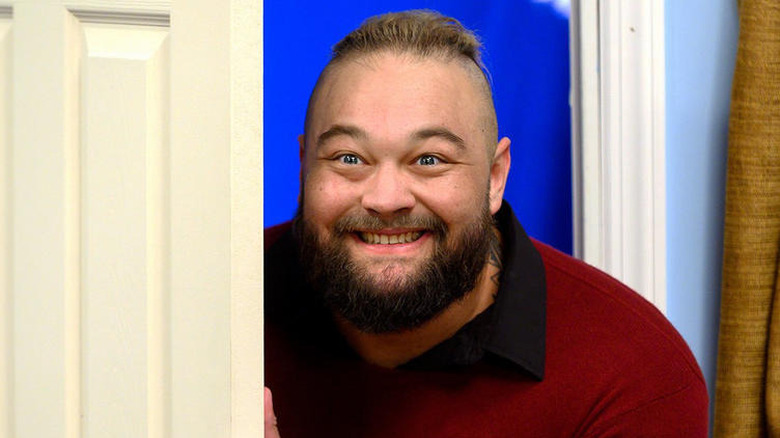 WWE
Windham Rotunda, known to WWE fans as Bray Wyatt, died unexpectedly last week. All Elite Wrestling's Jeff Jarrett discussed Rotunda and the Bray Wyatt character while appearing on his "My World" podcast. He began by revealing how he initially got to know Wyatt.
"When I first went to the WWF, me and Bray's father, Mike Rotunda, there was one show that we ended up riding together," Jarrett said. "Rotunda was notoriously fast. When he finished his match, he would be in the dressing room, full-on shower, and ready to go quick. So we made several trips together; that's how I got to know Mike, and this is when Bray — they were kids [in] '94. They were little bitty."
Jarrett, who said he was able to witness some of Wyatt's development due to his relationship with Mike Rotunda, explained that he was able to connect with the former WWE Universal Champion because they both came from wrestling families. The former NWA World Heavyweight Champion then told a quick story about how he took his son Kody to a WWE live event a few years ago. Jarrett said that Wyatt could not have made his son feel any more special that night.
'His uniqueness shone through in so many different ways'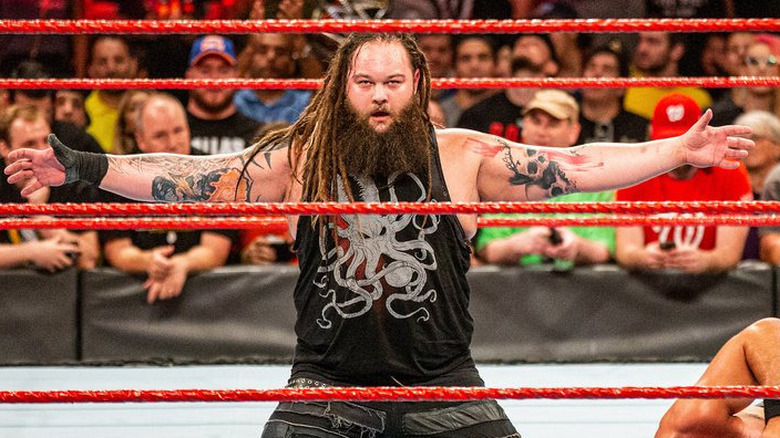 WWE
Jarrett, who held various roles behind the scenes at WWE between 2019 and 2022, including being a member of the creative team and serving as Senior Vice President of Live Events, then detailed a memorable tale about Wyatt that he will never forget.
"It was almost kind of like a revelation to me," Jarrett said. "Somewhat of a lightbulb. [At] WWE, we had just finished a creative session late into the night, and let's just say it was a Wednesday night, I think. Conrad, I'm talking 1 a.m. Late, late, and the chairman Vince [McMahon] says, 'Hey, Jeff, we got live events coming up; why don't you step into my office?' ...  And so I go in there, we go over the card, the order of the matches, and all that. Man, I wish I could exactly remember, but it's Bray and Seth Rollins."
Jarrett explained that it was a surreal experience because WWE's executive chairman, Vince McMahon, went through every little detail of the upcoming Rollins-Wyatt house show match. AEW's current Director of Business Development said he took notes of everything because McMahon wanted him to relay the details to the two wrestlers. McMahon ultimately signed off on Jarrett's notes during an email exchange in the early hours. The 56-year-old then explained what happened when he presented the information to Wyatt and Rollins.
"So I get to the venue, and Bray's there before Seth," Jarrett said. "I said, 'Hey, man. This is what he [McMahon] wants.' And I'm thinking, as a talent, 'Man, this is pretty damn detailed.' I wasn't exactly sure how all this was gonna go. Bray heard it, and then Seth heard it. And then, I'll be damned, Conrad, Bray took that body of work and made it better. I'll just say that because he made it his own ... His uniqueness shone through in so many different ways."
'that's something that I believe the wrestling industry thrives on'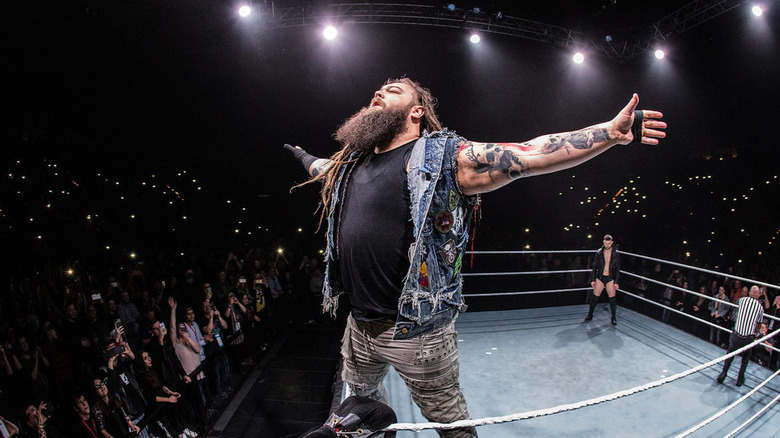 WWE
Wyatt portrayed different versions of his character over the years, from the leader of The Wyatt Family to his horror-themed The Fiend persona. Jarrett disclosed who was truly behind Wyatt's gimmicks in WWE.
"That character wasn't designed out of creative services, and I'm not disrespecting that," Jarrett said. "It wasn't designed at a wrestling school or anywhere. That all came out of Bray's head. And look, he's got some great producers — I won't go into names, but the people know who they are — those [involved with the Firefly] Fun House, and the videos, and the lighting treatments, and the magic of all the production, but it all came out of Bray's brain, and that's something that I believe the wrestling industry thrives on."
Wyatt's final run with WWE saw him enter a storyline with the mysterious Uncle Howdy. The former WWE Champion went on to feud with LA Knight, resulting in a Pitch Black match at the Royal Rumble earlier this year. That bout would turn out to be Wyatt's last-ever televised bout.
If you use any quotes from this article, please credit "My World with Jeff Jarrett" with a H/T to Wrestling Inc. for the transcription.