Bray Wyatt Dead, WWE Star & Third Generation Wrestler Unexpectedly Dies At Age 36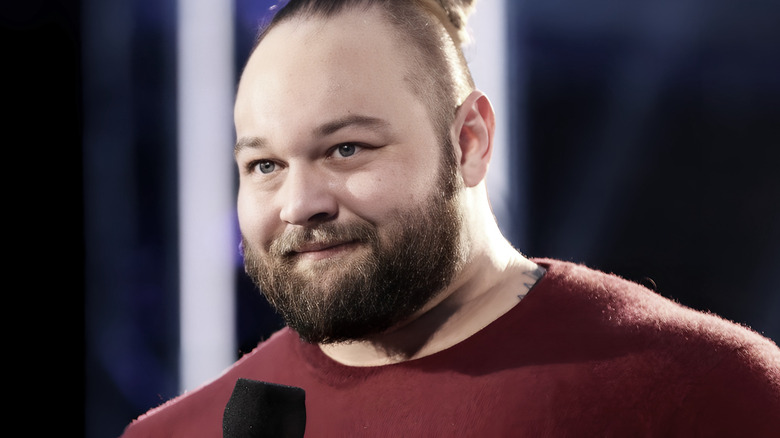 WWE
Windham Rotunda, known to WWE fans as Bray Wyatt since 2012, has died. The news was broken on Twitter by Rotunda's employer, Paul "Triple H" Levesque, who says he received the news from Rotunda's father. Rotunda was 36 years old.
Just received a call from WWE Hall of Famer Mike Rotunda who informed us of the tragic news that our WWE family member for life Windham Rotunda – also known as Bray Wyatt – unexpectedly passed earlier today. Our thoughts are with his family and we ask that everyone respect their...

— Triple H (@TripleH) August 24, 2023
Rotunda worked in WWE from 2009 to 2021, when he was released. He returned to the company a year later, to much fanfare, at the Extreme Rules premium live event, where he began performing an intricate storyline involving a character called Uncle Howdy (portrayed by his brother, former WWE star Bo Dallas) and Alexa Bliss. The story was apparently tabled, however, following Rotunda's match with LA Knight at the 2023 Royal Rumble. Afterward, Rotunda began a feud with Bobby Lashley prior to WrestleMania 39, but was removed from television due to an undisclosed illness, which was later said to have threatened both his career and his life. Until this news, the worst seemed to have passed; as recently as August 10, wrestling media outlets were reporting that Wyatt was recovering and moving in the direction of being medically cleared to return.
Rotunda's televised WWE career began in 2010, when he joined the cast of the original "NXT" as Husky Harris, competing in the second season of the original "reality show" format of the program. As Husky Harris, he joined the "NXT"-centric heel stable The Nexus on the main roster, but was written off television and sent back to WWE's developmental territory, Florida Championship Wrestling, in 2011. He was repackaged as the sinister cult figure Bray Wyatt in 2012 and was a major part of the re-branded "WWE NXT" when it functionally replaced FCW, becoming one of the show's most popular acts alongside his cohorts, Erick Rowan and the late Luke Harper, aka The Wyatt Family. This incarnation would take him back to the main roster, where his career had numerous ups and downs; Rotunda seemed almost constantly in the act of re-inventing himself, a process that culminated in 2019, when he debuted both his Firefly Funhouse segments and his alter ego The Fiend, who notoriously wrestled under a terrifying mask and obtrusive red lights. Over the course of his career, he won the WWE Championship, the WWE Universal Championship, and two tag team championships.
This is a developing story; it will be updated as more information becomes available.