AEW's CM Punk Opens Up About Dealing With 'Imposter Syndrome'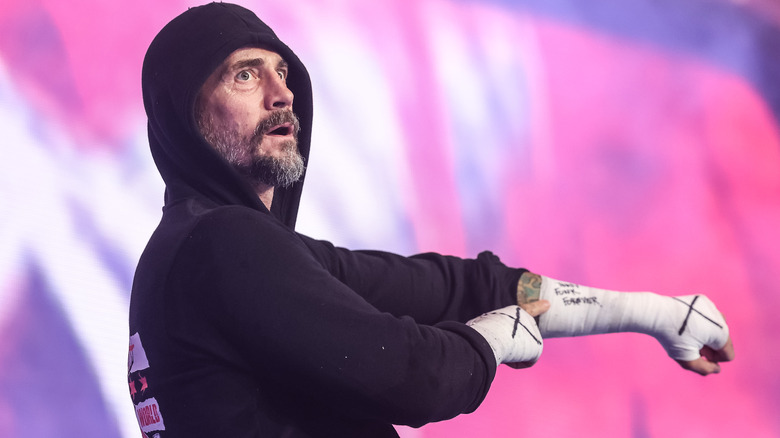 AEW
CM Punk received the Iron Mike Mazurki Award from the Cauliflower Alley Club this week, and in his speech to the awards banquet audience, the "Real AEW World Champion" said that he always struggled with fitting into the professional wrestling business. "I've always struggled with a little bit of imposter syndrome," Punk admitted. "It's a strange business. You're supposed to just talk s**t. You're supposed to tell everybody you're the best. Everybody compares numbers." Punk continues on but then loses his train of thought. "It's like I woke up one morning and I was an old-timer at the Cauliflower Alley Club," he joked.
"What means the most to me now," Punk continued, "is sharing a locker room and having those kids come up to me and tell me that 'I saw you sit cross-legged on a stage in Las Vegas and that brought me back to wrestling.'" Punk says he's seen kids with Straight Edge tattoos, that have been inspired to embrace the lifestyle because of Punk. "If there's a reason I'm still doing this, it's that. People come up to me and say 'You've saved my life.' It sounds a little far-fetched but god****it I understand and I take that responsibility to heart."
Punk says that he was himself "touched" by wrestling through various wrestlers like "Rowdy" Roddy Piper, Terry Funk, and Harley Race, and to not only have that impact on other people but to also receive a stamp of approval from a collection of legends like the Cauliflower Alley Club holds immense personal significance to the controversial star. "This award means the world to me," Punk gushed before jokingly apologizing for wasting any of the audience's time. Punk is currently suspended from AEW, following an altercation with Jack Perry backstage at All In.