AEW Star CM Punk Explains How He Made It To WWE, In His Eyes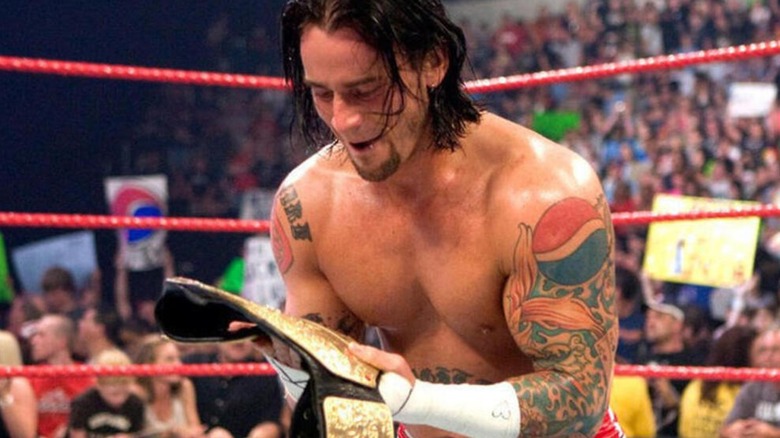 WWE
CM Punk's in-ring future is up in the air at the moment following his altercation with Jack Perry at AEW All In. However, the veteran has had plenty to celebrate, as he won the Cauliflower Alley Club's Iron Mike Mazurki Award. Punk reflected on his career during his acceptance speech (per Sports Guys Talking Wrestling), and he detailed his journey from indie star to WWE Superstar.
"I got a job with WWE and it's because I wouldn't be denied. And then when I got there, I feel like I worked so hard that my heroes, the people I looked up to, became my peers and my rivals."
Punk then recounted a story about finishing up with Ring of Honor and being flown out to WWE the next day. Howard Finkel called and gave him the rundown. When he arrived at the rental car building, he met Mickie James, who was also scheduled to make her WWE debut. They decided to ride together, and when they arrived at the building, they were told they were both going to be on "WWE Sunday Night Heat."
"The Straight Edge Superstar" then recalled meeting Michael Hayes, who walked up to him and said, "CM Punk. I don't get it," and walked away. This put pressure on Punk to knock it out of the park on his debut as he feared that he'd squander James' career if he didn't deliver the goods.
Of course, Punk went on to find success in the end. During his tenure in WWE, he became a three-time World Heavyweight Champion, two-time WWE Champion, ECW Champion, Intercontinental Champion, and World Tag Team Champion.