Jim Ross Details The Challenges Of Working A Stadium Show Like AEW All In At Wembley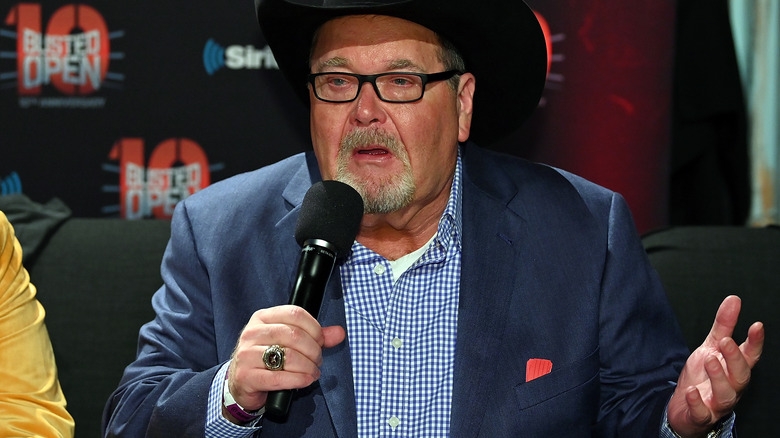 Slaven Vlasic/Getty Images
71-year-old Jim Ross has encountered some health struggles recently, and missed nearly two months of his AEW commentary duties after suffering a fall in June. Despite those issues, Ross made the trip to London to call the action for AEW's historic All In pay-per-view, and thankfully, it was all smooth sailing for the legendary announcer.  
"You know, doing a show outside drives you up, it's a little challenging," Ross said on "Grilling Jr." "I think my peers would probably attest to that, now that they've experienced it. It's just a little bit different on your respiratory system. It's good, though. I had so much fun." Ross proceeded to credit AEW's production team for "kicking ass" in their first experience of producing a stadium show attended by fans from over 70 countries. As much as Ross enjoyed calling All In, he equally loved interacting with fans from across the world, one of whom drove 12 hours from Germany. "It was such a cool and fun experience," Ross added.
When asked to rank All In among other stadium shows he had called in his career, of which there have been many, Ross explained why the AEW experience was different. "You almost expect the WWE production team to hit home runs because that's what they do, but we had never been in that arena — literally or figuratively. So, it was a really cool thing. I'm glad I got to be a part of it." As he enters the home stretch of his career, Ross realizes he doesn't have "many more of these stadium shows" left, and therefore hopes to savor each of them. "I'm so glad and fortunate that my health was good [for All In]. I had a little leg pain — all that flying wasn't cool, but, I had my leg wrapped. I had the doctor see it before I left."