CJ Perry, Formerly WWE's Lana, Makes AEW Debut, Assists Husband Miro At All Out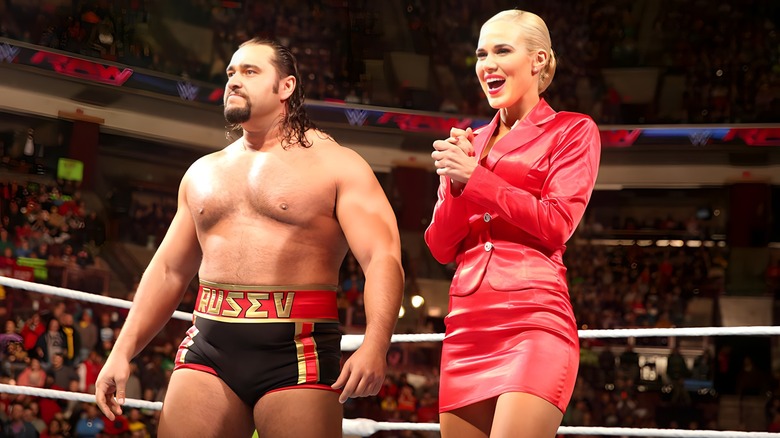 WWE
The match between Miro had Powerhouse Hobbs at AEW All Out had a surprising aftermath — and then an even more surprising second aftermath.
Following Miro's victory in a match that saw the Chicago crowd come up with a plethora of chants involving the word "meat," it seemed as though he and Hobbs would leave the ring with mutual respect for one another. However, Hobbs instead chose to attack Miro while his back was turned — a decision that heralded the AEW debut of former WWE star CJ Perry, who arrived to defend her husband and hit Hobbs with a steel chair. Hobbs wasn't exactly phased by the strike, but the distraction allowed Miro to hit a couple chair shots of his own, leaving the couple together in the ring.
Miro, however, turned out be less than thrilled to see the "hot, flexible wife" he's claimed to have forsaken on his path to righteousness. He retreated back up the ramp alone, leaving a confused Perry standing in the ring. Miro could be heard on the entry stage yelling "You're not real!"
Later in the evening, Perry tweeted a picture from her debut, along with a statement to Miro: "I'm not the kind of woman you renounce."
I'm not the kind of woman you renounce @ToBeMiro #AllOut @AEW pic.twitter.com/KDl206Rtcy

— CJ Perry (@TheCJPerry) September 4, 2023
Perry worked in WWE as Lana from 2013 to 2021, almost always at the side of Miro, then known as Rusev. She hasn't wrestled in more than two years, with her last match coming as part of a tag team contest on "WWE Raw" in May 2021.