Bryan Danielson Says Ricky Starks Carried Him Through Strap Match At AEW All Out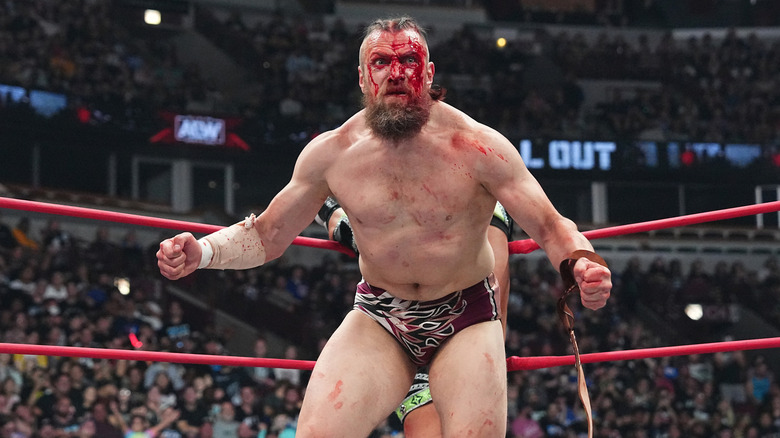 AEW
Bryan Danielson completed a shock early return on Sunday night, defeating Ricky Starks in a brutal 'Strap Match' on AEW All Out at the United Center. The 42-year-old was expected to be sidelined for at least another month with a broken arm, but made a surprise comeback on "AEW Collision" the night before the pay-per-view to challenge Starks on behalf of the legendary Ricky Steamboat. 
The pair delivered an instant classic in front of a raucous Chicago crowd and Danielson was full of praise for his opponent in the post-event media conference, putting over his gutsy attitude and professionalism inside the ropes following their first-time encounter. 
"Every time Ricky Starks gets an opportunity, he knocks it out of the park," he said. "I will be the first one to say –- and this is outside of within our stories and what we do –- he carried me through that match tonight. I'm good at a decent amount of things and I'm confident in saying that he was the one who carried me through that match.
"In the Blackpool Combat Club, we like to test people, we like to push people, part of that is story and part of that is real. I have never wrestled Ricky Starks before ... we have never touched, we have never done anything. I've always watched and thought every time I see him, that guy is a star. I'm hoping fans see him in a way now that he is entertaining, but he is also gutsy."
Danielson was a late inclusion on the All Out card, replacing controversial star CM Punk, who was terminated by the promotion over the weekend. The former WWE Champion also explained the importance of Starks' partnership with Big Bill, claiming that the 'Absolute' rising star understands the business more than some fans may realize.