Backstage Reasons For Chad Gable Vs. GUNTHER Being On WWE Raw Instead Of Payback Card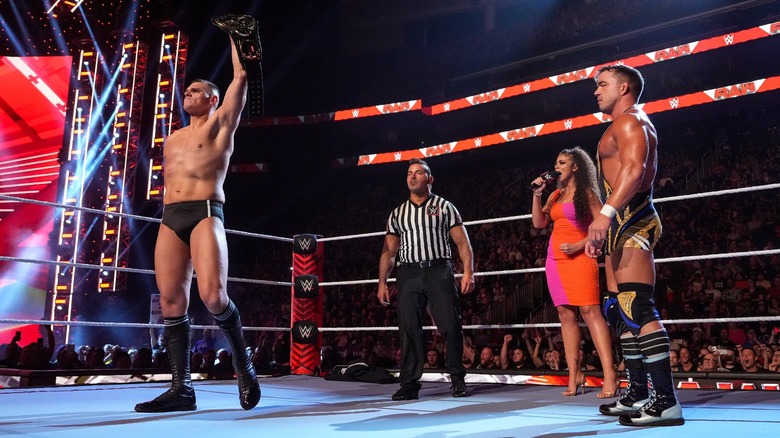 WWE
The Honky Tonk Man has long held the WWE record for the longest reign in Intercontinental Championship history. His 454 days as champion has remained as the top mark since 1988, but now the current champion GUNTHER has a legitimate chance to break it. He is days away from surpassing the Honky Tonk Man's impressive feat — but he'll have to get by Chad Gable first. 
Tonight, they'll face off once again for the Intercontinental Championship, only a few weeks removed from Gable defeating GUNTHER on "WWE Raw" by way of countout — GUNTHER's first singles loss of any kind since debuting on the main roster. But with WWE holding the premium live event Payback over the weekend, many have wondered why the big title defense didn't take place on that particular show instead of tonight. 
According to Fightful Select, the decision was made for a variety of reasons. First off, WWE has been very careful about not stacking their PLEs with too many matches. As a result, the match was held back in order to maintain the anticipated runtime laid out for Payback. Additionally, the belief was that by featuring GUNTHER vs. Chad Gable on "Raw," the match would stand out more than if it was just another match on the Payback card. Considering Saturday's show featured both the Steel Cage Match between Trish Stratus and Becky Lynch, plus the Steel City Street Fight, it's easy to now understand the approach. 
Lastly, GUNTHER vs. Chad Gable was delayed until this evening in order to heighten the drama. It may only be a couple of days difference, but in waiting until Monday night to hold the match, it brought GUNTHER that much closer to the record-breaking day, adding additional stakes to Gable's position as likely GUNTHER's last obstacle on the way to claiming the record.