Aubrey Edwards Explains Why She's Not Involved With AEW Fight Forever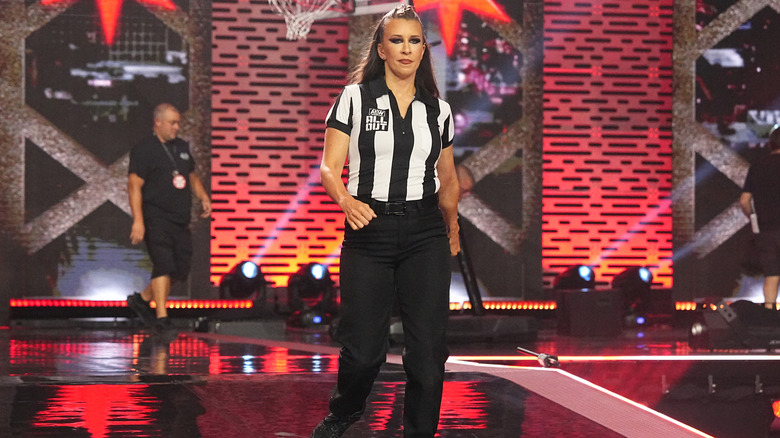 AEW
Aubrey Edwards set the record straight about her role in the design and release of the "AEW Fight Forever" video game in a new interview with "Swerve City Podcast" contributor Monteasy.
"I'm not actually working on ['Fight Forever'], that's Kenny's baby," Edwards explained. "I'm working on other stuff."
Edwards is part of AEW's gaming department but is not involved in the console game, instead overseeing projects that she's not able to comment on yet. She also helped with the mobile game "AEW General Manager," which was released in 2021.
"The process of that is really interesting because it's different from what I did previously."
Edwards was working in the virtual reality field before joining AEW, but the company ran out of money and she was laid off a month before her AEW tenure began. After a brief respite from game design, AEW asked her about adding responsibilities on that front.
"You try to leave, you can't leave," Edwards said.
She no longer works with the development team and is now in charge of making sure that any branding used in an AEW video game is used properly, comparing the transition to going from design to publishing.
Edwards joked that her email inbox is loaded with conversations about how to present tattoos on AEW characters without getting into legal trouble with the respective artists. WWE found itself tangled in a lawsuit with a tattoo artist who designed tattoos that adorn WWE Superstar Randy Orton. A jury found in favor of the tattoo artist, awarding the artist just over $3,700 for her trademarked work appearing in WWE games.
If you use any of the quotes in this article, please credit the Swerve City Podcast YouTube channel with a h/t to Wrestling Inc. for the transcription.