Booker T Explains Importance Of Ability To 'Make It In The Locker Room' In Wrestling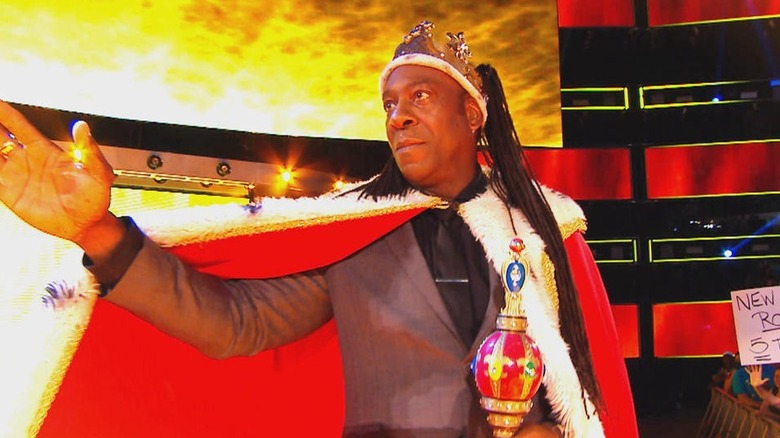 WWE
Booker T revealed a lesson he teaches to his students on the latest "Hall Of Fame," something that can be related to the recent news of CM Punk being let go by AEW due to the backstage incident at All In. "Can't make it in the locker room, you have no chance of making it in the ring, that's just the way it is," he said. "That's pretty much in all sports across the board, can't make it in the locker room, you're gonna have a problem with the boys sooner or later."
The two-time WWE Hall Of Famer admitted that the wrestlers themselves always run the locker room, which was the case during his time in WWE. He confirmed the boss never policed the locker room, and instead, it was The Undertaker and others who made sure that people behaved. "There was a pecking order as far as things and how it went, that's just the way it was. Wrestlers court is something that's very needed in this business," he said. "I've heard people like CM Punk say it's something that's stupid, but wrestler's court in this business, it's needed." 
One criticism that Tony Khan has had to deal with regarding Punk is that he didn't step in earlier, and Booker does agree with that, believing Khan should have put his foot down. However, he also pointed out it can be hard to be the bad guy, which is why Khan could look into doing something else. "That's one thing that I felt like AEW needed more than anything was some direction and somebody to take charge," he said. "If Tony Khan couldn't do it, maybe he should hire someone to do it. Sometimes it's hard being the bad guy, especially when you're buddies with a lot of these guys."

If you use any quotes from this article, please credit "Hall Of Fame" with a H/T to Wrestling Inc. for the transcription.