AEW's Anthony Bowens Reveals How He Was Influenced By Darren Young Coming Out In WWE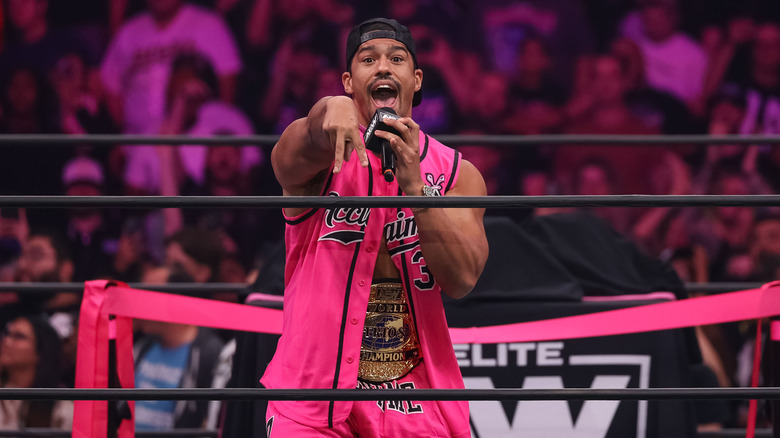 AEW
Having won both the AEW Tag Team and Trios Tag Team Championships, Anthony Bowens holds the distinction of being the first openly gay champion in the company's history. He has become a role model for aspiring gay wrestlers and athletes, unabashedly himself each week on TV at a time when representation really matters. 
Bowens pulled the curtain back on one of his own role models, Fred Rosser — former WWE Superstar Darren Young — during an interview with Out. Young made history when he became the first openly gay wrestler as he came out in August 2013. Bowens said that he had just started wrestling, and was keeping an eye out as he wondered how it would work out. He noted that at the time there had been no other wrestlers openly gay and in prominent positions, though maybe there were on the independent scene but he hadn't heard of them. 
"I didn't really have anybody to look towards and say, 'He's a World Champion, I want to be like him one day,'" he said adding that, "It was extra motivation for me when I did share my sexuality, to become the person I always wanted to see. It also kept me in the closet because it was a landscape that people hadn't really navigated."
Bowens said that he was left unsure how his sexuality could affect his career, having seen WWE not use Darren Young too much afterward. He said that he thought Young did well, but from a company perspective he wasn't motivated by what he saw. He was also unsure how fans or other wrestlers would react to him. 
"You may get in there and come across someone who may not 'agree' with your lifestyle and then you have to defend yourself," he said. 
Luckily, he said that he has yet to encounter that situation and he has such "warm" and strong support from fans and his co-workers.