Nigel McGuinness Says Bryan Danielson Injury 'Closed The Portal' To Possible AEW Match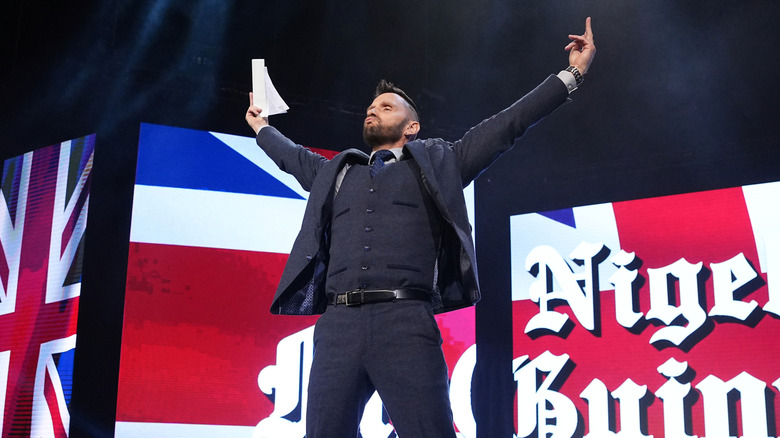 AEW
With AEW making its UK debut last month at All In, in front of a record attendance at Wembley Stadium, it appeared the stars might align for Nigel McGuinness to make a return to the ring after over a decade of retirement. Alas, this was not to be, with McGuinness laying the blame at Bryan Danielson's feet in a new interview with "Metro" recently. 
"There was some scuttlebutts, some discussion backstage in the upper echelons," he said about a potential match, "But as we know, 'Clamdigger Brittle Danielson' as he's now being known decided to have to take a respite because he broke his arm, so now it's not gonna happen."
He said he was disappointed, but "such is life", counting being at the All In commentary desk amongst the best of his "many blessings". He confirmed that he is in match shape and has been ready to go, but not out of a desire to return. He revealed that it was Bryan Danielson who inspired him to get back into in-ring shape, irrespective of whether he intended to wrestle or not. 
"I've enjoyed getting back in the ring. I am achy, always pulling this or pulling that. There's not the slightest inclination or a desire to wrestle again. But the ability to do it, so that if I had to, I could've done it? That's something I'm very proud of." 
Speaking of his potential clash with Bryan Danielson, McGuinness said, "It "was one of those moments in the universe that you never could've seen, it was like a portal to an impossible reality." 
He joked that when Danielson "gave up" because he broke his arm, that "closed the portal", but there will always be possibilities if and when he decides to step back in the ring.