ECW Legend Shane Douglas Discusses Joey Styles And Praises His Professionalism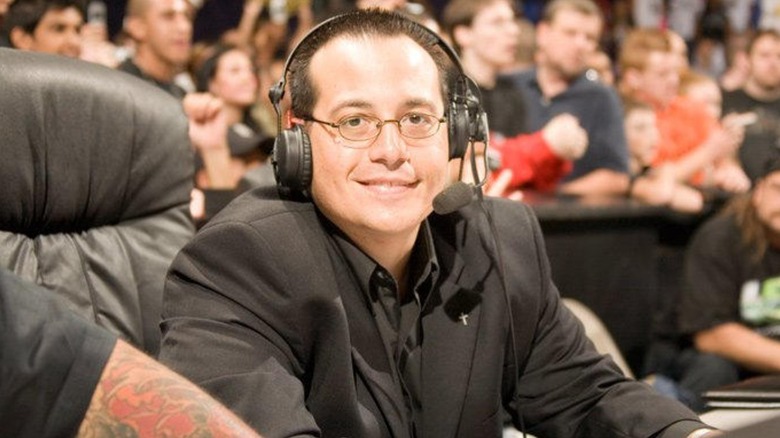 WWE
As the voice of ECW from 1993 to 2001, Joey Styles made a name for himself with his unique commentary style built on high-pitched euphemisms, catchphrases, and his vast knowledge of wrestling holds. On most nights, Styles called the action as a one-man band, something that his former colleague Shane Douglas had never seen before and continues to marvel at. 
On a recent episode of "Franchise University," Douglas lavished praise on Styles for doing eight pay-per-views without the aid of a color commentator. "This, by no means, is to smear or besmirch anybody else in the industry – Jim Ross, Lance Russell, and Gordon Solie were all phenomenal, but watching Joey ... how professional he approached this job [even] in the dressing room walking around. I remember him talking with Taz about the Kata Ha Jime [Tazmission] and in his commentary on Barely Legal, you'll hear him just throwing these words that I'd never heard before. He'd done his homework, like a straight-A student in class."
Douglas further praised Styles for bringing a semblance of "professionalism" to the ECW locker room that was notorious for housing misfits. "He brought with him a corporate attitude — he had worked for big companies in New York City. He brought that with him, and Joey's delivery was so informative, but at the same time, so disarming. It wasn't like, 'I'm a bean head who's gonna hit you in the head with all these big words.'"
Nearly four years after ECW went out of business, Styles was named as the play-by-play announcer for "WWE Raw" in November 2005, a development that excited fans at the time. However, Styles reportedly ran into issues with WWE boss Vince McMahon and eventually transitioned into a backstage role as Senior VP of Digital Media Content, a position he held until his 2016 departure from WWE. These days, Styles is known to be a digital ad salesman in New York City.