Rob Van Dam Explains Why AEW Needs To 'Regain Balance' After CM Punk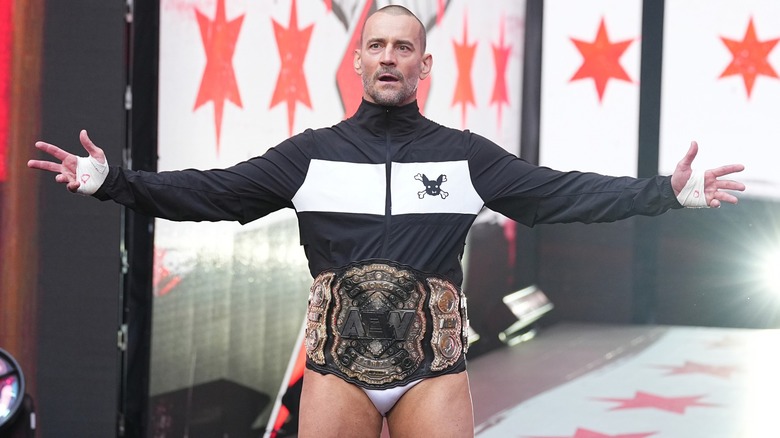 AEW
As AEW tries to pick up the pieces in the aftermath of CM Punk's exit, WWE Hall of Famer Rob Van Dam has offered his two cents to the upstart wrestling promotion on ways to overcome the loss of its biggest box office attraction and merchandise seller. As clichéd as it may sound, RVD believes the best course of action for AEW would be to look ahead instead of behind. 
"Regain balance," RVD said on "1 of a Kind" in his address to AEW. "If you lost a heavyweight and the ship's rocking too far in one direction, just put some focus on some other guys. WWE's always been criticized for being like a one-guy company — it was [John] Cena, The Rock, Hulk Hogan, and Steve Austin. But, I'm like that, too, socially ... I'm a 'put all your eggs in one basket' kind of guy when it comes to people that are real close to me, and if it fails, it hurts. But, hey, it's just like getting your head cut off [laughs]."
RVD acknowledged that, unlike WWE, AEW is not "a one-man show" where "no one else matters" and therefore could have an easier time trying to build the company around other stars. That said, RVD admits that a lot of the pro-Punk fanbase could potentially stop watching AEW. He also warned Tony Khan's company to be prepared for the possibility of losing more stars. 
"I don't know if his fans are so loyal that they won't support the thing without him. Otherwise, yeah, just regain composure, put your fists back up, get ready for the next blow — because it's coming."
The "next blow" could potentially come in the form of Jade Cargill, with reports emerging that the inaugural TBS Champion is widely expected to jump ship from AEW to WWE.