AEW Collision Results 9/16 - Blackpool Combat Club In Action, TBS Title Match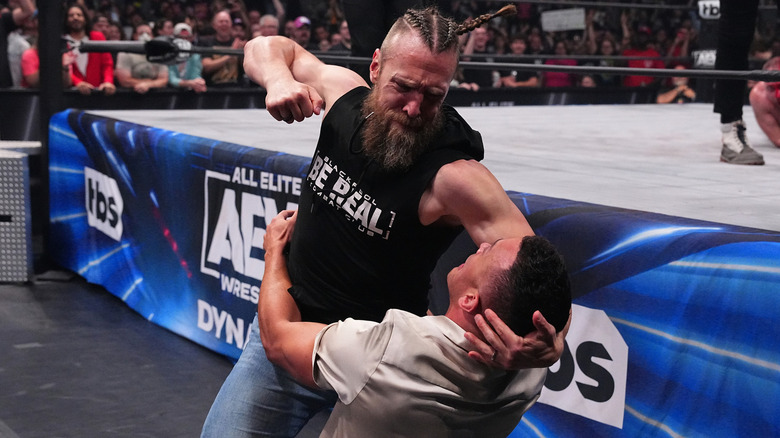 Welcome to Wrestling Inc.'s live coverage of the September 16 episode of "AEW Collison." This week's episode comes from the Bryce Jordan Center in State College, Pennsylvania.
There will be two scheduled title matches tonight — FTR (Cash Wheeler and Dax Harwood) will be defending the AEW Tag Titles against The Iron Savages (Bronson and Boulder) and Kris Statlander will be defending the AEW TBS Title against Britt Baker.
The Blackpool Combat Club will be in action, members Bryan Danielson and Claudio Castagnoli are set to face Ricky Starks and Big Bill. The Dark Order's Evil Uno was supposed to face Anthony Bowens, but John Silver will be taking his place. Also, The Hardys are going to be in action against the ROH Tag Team, The Righteous (Vincent and Dutch), and Andrade El Idolois facing Scorpio Sky. We'll also be hearing from Aussie Open's Mark Davis and Kyle Fletcher as well as Bullet Club Gold's Jay White. 
The show opens up with the tag team match between Starks and Bill versus Danielson and Castagnoli.
Ricky Starks & Big Bill Vs. Bryan Danielson & Claudio Castagnoli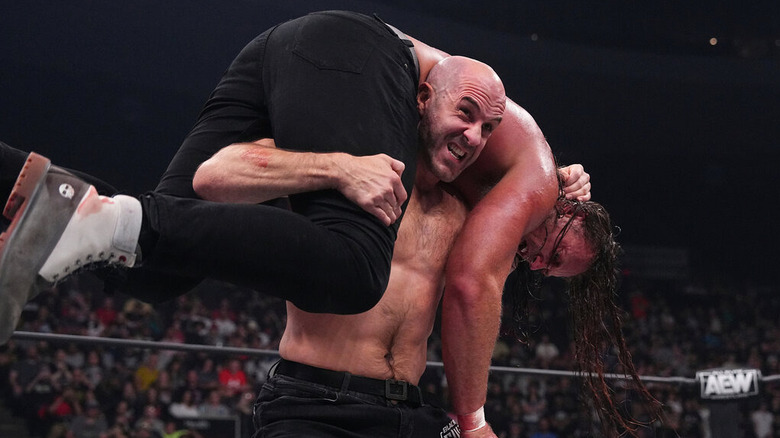 Danielson and Starks are in the ring first, but Starks quickly tags in Bill. The crowd boos. Danielson gives several kicks to Bill, though Bill throws him in the corner and gives him some chops. Danielson does a drop kick to the knee and then more kicks. He was picking up momentum until Bill threw him. Danielson tags in Castagonli. The two do the test of strength. It breaks after Bill kicks him in the stomach. They exchange shots. Castagnoli tries to lift Bill up, but can't do it.
Uppercut forearm to Bill and Castagnoli tags in Danielson. They try to tag team him, but he knocks them down. Starks is finally tagged in and right hands to Danielson in the ring corner. He slaps him, then Danielson turns it around and does a mix of kicks and chops to Starks.
Danielson gets a two-count. Starks tags in Bill. Danielson is in the corner and Bill does a spear. The second one, Danielson moves, but gets a big boot. Starks attacks Danielson outside of the ring. It goes to a commercial break.
Back from the break, Danielson is in the ring corner and Starks is pulling his ponytail. They both run into each other and Danielson tags in Castagnoli and Starks tags in Bill. Castagnoli is trying to take him down. He finally gets him down with a clothesline. He gets a three-count. The crowd him to spin him. He tries but gets a chokeslam and Bill gets a two count.
Ongoing Match, Young Bucks Appear Backstage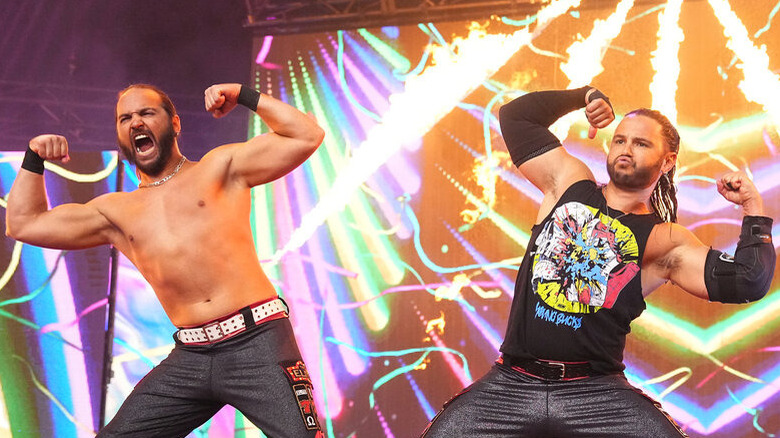 AEW/socialie
Starks is back in the ring and Castagnoli gets to swing Starks. The crowd goes while. Goes for a cover but then breaks it, and does a submission hold. Bill comes in and kicks him. Danielson finally appears and gets Bill out of the ring.
Starks does a DDT combo and gets only a two-count. Uppercut to Starks. Danielson is tagged back in and more kicks to Starks. Starks tries to win with a rollup but Danielson counters. Spear from Starks and Castagnoli breaks up the count.
Snap of the neck to Starks, Danielson goes on top, but Bill intervenes. Belly to back. Low-blow to Danielson. Starks gets the win with the Roshambo.
Winners: Starks and Bill
Post-match, Castagnoli goes for a chair, but they are already gone from the ring. A video package airs of what happened last Wednesday between Brian Cage and Hangman Adam Page.
The Young Bucks and Page are backstage, they want to the Mogul Embassy's ROH World Six-Man Tag Team Titles. A match is set up for next Friday on Rampage.
AEW Tag Team Match: FTR (c) Vs. The Iron Savages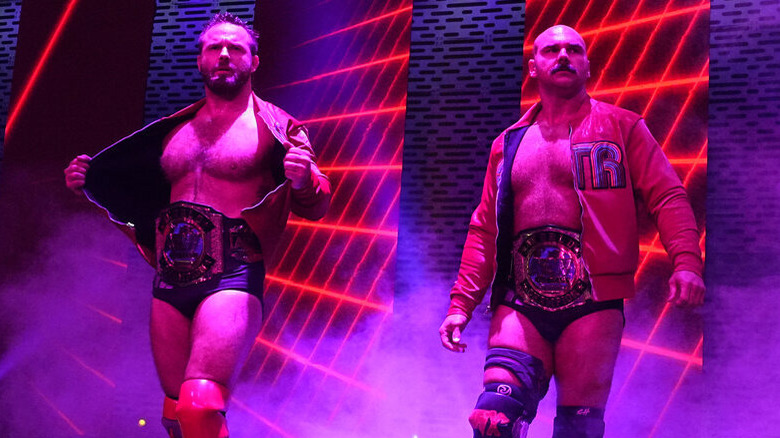 AEW/socialie
Back from the break, a video of Powerhouse Hobbs airs and it's him talking about the next chapter in his book. A Miro promo airs after Hobbs. He wants to meet up with him again. He calls his wife, "temptation." Goes on about them having unfinished business.
The tag team title match is up next. Jack makes fun of Harwood and they hit him with the Shatter Machine. The bell rings and Iron Savages is getting the upper hand. Bronson goes for a cover and gets a two-count.
Bronson goes for a spear but hits the turnbuckle. Wheeler is tagged in as does Boulder. Dropkick Boulder. Boulder grabs Harwood and bodyslams him. He motions to the crowd that he's going up, but Harwood attacks him before he could make the move. Shatter Machine to Bronson, but it's Boulder who is legal.
FTR won with teamwork and with both going up to the top ropes.
Winners and still the AEW Tag Team Champions: FTR
Post-match, The Workhorseman comes out. They are from ROH. They shake hands with them and get an upcoming match. Aussie Open is watching it.
Keith Lee is backstage with Lexy Nair. Shane Taylor "introduces him" to Lee Moritarity to be part of his enterprise.
Anthony Bowens Vs. John Silver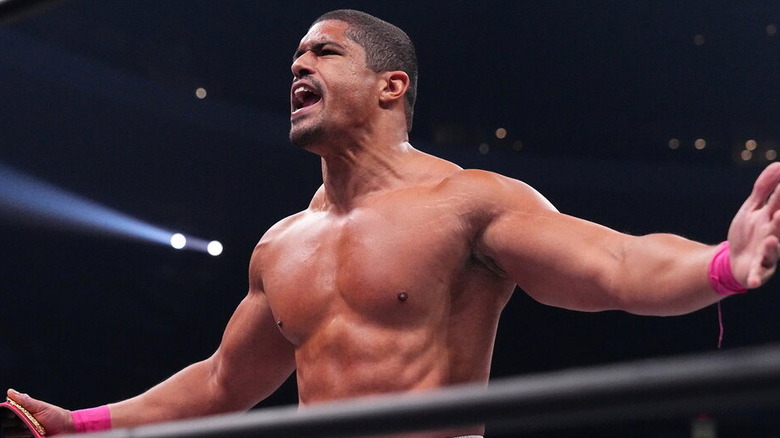 AEW/socialie
Before the match starts, John Silver has the mic, he says that he googled scissoring and the Acclaimed is doing it wrong. He says that on the match contract, Max Caster and Billy Gunn have to leave. The crowd chants
Silver attacks Bowens while his back is turned. The bell rings. Bwoens is quick to turn it around and after some chops, he bodyslams him. Silver is out of the ring and the crowd boos him. He gets back in the ring. They exchange shots and Silver is back getting the upper hand. He kicks Bowens. Back from the break, a right to Silver. A kick in the middle to Silver and he drops. More kicks to Silver. A lariat for a two-count.
They exchange fists and then Silver breaks it with a kick. He runs into the ropes, but Bowens stops him. Silver gets a two-count after bodyslamming him. A knee strike, Silver is down and he falls out of the ring. He looks under the ring apron. An elbow and Silver is back Evil Uno comes out and the crowd is booing, but the ref didn't see. Silver kicks Bowens after Uno attacks him behind the ref's back.
Winner: Silver
Backstage with Eddie Kingston. He is going on about his relationship with Castagnoli. He says that Castagnoli left potholes in the business that many had to fix. He goes on about not having friends because he pushes them away.
Aussie Open Talk, Scorpio Sky Vs. Andrade El Idolo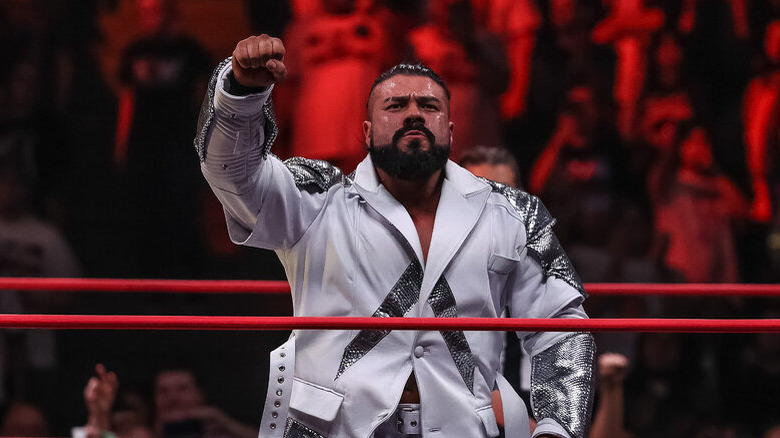 Back from the break and Hook, Orange Cassidy is backstage eating Doritos. They decide to have a match at Grand Slam. Renne Paquette is in the middle of them and looks confused.
Aussie Open are in action against two enhancement talent. They of course win. It was a few seconds match and nobody even said who was already in the ring.
Post-match, Aussie Open have mics and they are calling out FTR. Edwards and Davis want to face FTR at WrestleDream.
A video package plays of RJ City and Toni Storm. He is interviewing her for a title match against her "friend" Saraya. She says that AEW signs every woman with a sob story. She doesn't want to mingle with the rest of them. Another video package airs about Sky before his upcoming match against Idolo.
The bell rings and Idolo offers his hand to Sky. He decides not to. They lock up. Then things go fast. Head scissors to Idolo. He misses Idolo in the ring corner. Idolo grabs his leg and does the dragon screw. It cuts to commercials.
Back from the break and Sky has Idolo in a submission hold, but Idolo breaks out of it. Both men are down after exchanging kicks. Idolo is still on the ground, he wants more kicks to the face. He then does two dragon screws to him. He's getting back into the match. The crowd cheers for him. Idolo collides with Sky's elbow and he tries to do a sunset flip, but doesn't work. Crash and Burn. Sky's knee is hurting. They both are back in the ring and are going slower than when the match first started. Idolo "knocks out" Sky. He then has him in the figure four and now it's a figure eight. Sky taps out.
Winner: Idolo by submission 
The Hardys Vs. The Righteous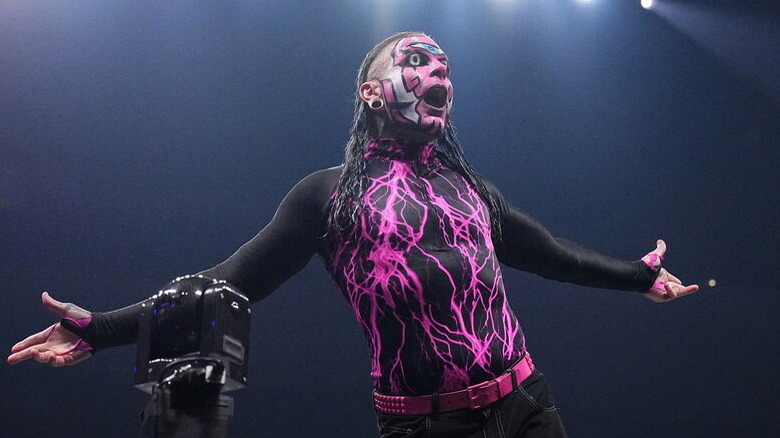 AEW/socialie
Post-match, Jay White and Bullet Club Gold come out. White tells Idolo he looked like he was having fun watching "his boys" last week on Collision. The crowd is chanting a**hole. He says Idolo can't have his boys but he can give him the "switchblade spotlight." He says that it's still his era. Idolo just claps and gets out of the ring. Refs and security won't let him get to White.
Next week it will be White vs. Idolo.
A video package airs about Kota Ibushi and Kenny Omega's relationship and how Don Callis wants to take Ibushi away from Omega. It goes to commercial. Back from the break, it's Tony Schiavone and Katsuyori Shibata. Shibata wants a match at WrestleDream. Up next is The Hardys in action against The
The bell rings and it's Vincent and Matt. Matt looks for the side effect right away, but Vincent is too quick. Matt repeatedly slams Vincent's head to the turnbuckles. DDT to Vincent and a side effect, Jeff is the legal man and he goes for a pin, only a two-count. Dutch tags himself in and Dutch gets hit with a blackout. Chops and a leg drop.. Matt tags in Jeff, and Jeff hits an elbow to Dutch.
.Back from the break. A back elbow and a side effect. Another Side effect from Matt and Jeff goes for the Swanton, but Dutch intervenes. Vincent then gets the win.
Winners: The Righteous
Post-match, Dutch has the mic. He says their names. Vincent grabs the mics, and says how they just defeated the greatest tag teams in the world. He calls out the ROH World Tag Team Champions MJF and Adam Cole.
FTR talk about their upcoming match and there is also a Zack Sabre Jr segment.
Main Event: TBS Champion Kris Statlander (c) Vs. Britt Baker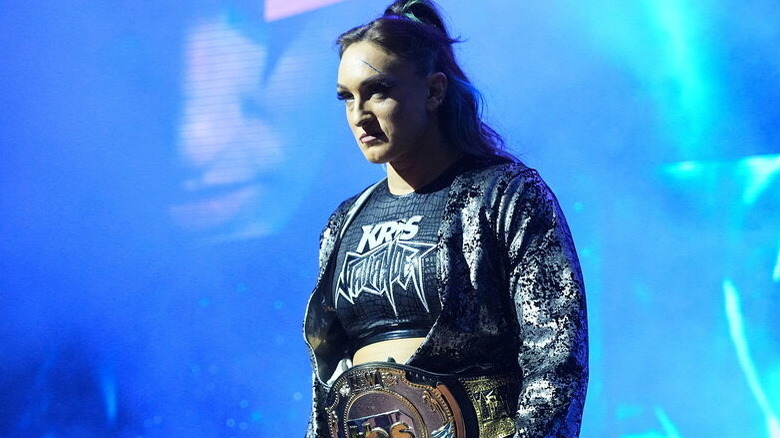 AEW/socialie
It's main event time and Baker comes out first. The crowd of course goes crazy. The bell rings, and they stare down at each other. They lock up, but Baker breaks out of it. Baker is out of the ring and the crowd is all behind her.
She comes back in the ring and she and Statlander trade blows. Statlander lands awkwardly on her knee. A neck breaker to Statlander. A power slam to Baker and gets a two-count.
Back from the break, Statlander goes for a high-risk move and it doesn't pay off. Baker is using the ring post and hitting Statlander's knee. Two sling blades to Statlander. Blue Thunder to Baker.
The lion's special and a two count. Baker takes out her white glove. Statlander goes for a rollup and gets a two-count. Baker tries for her submission move but Statlander breaks out. Both are standing now and they are exchanging blows again. Three superkicks and a suplex to Statlander. They are both down.
Baker goes for the Canadian destroyer but Statlander counters, but Baker counters her and gets a two count. A kick to the face. The Canadian Destroyer and the curbstop, but Statlader still kicks out at 2. Baker was going for the Panama sunrise, Statlander has her on her shoulder, and Baker counters, and has the mandible claw. Statlander counters the submission move and gets the three count. The crowd does not seem happy.  Post-match, the camera zooms to Julia Hart who was watching. Baker and Statlander shake hands and raise up each other. It's done.
Winner and still the TBS Champion: Statlander