Seth Rollins Wants To Face 'Long Overdue' Ricochet For WWE World Heavyweight Title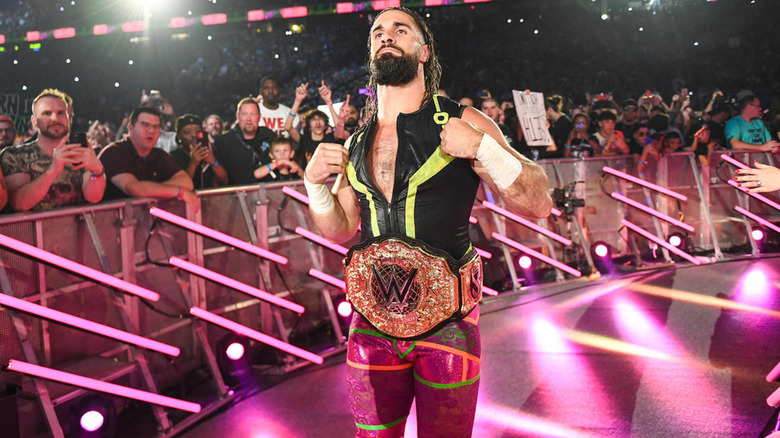 WWE
WWE World Heavyweight Champion Seth Rollins feels that Ricochet deserves a world title match and stated that he's going to put in a word with Adam Pearce to make it happen.
During his recent appearance on "The Bump," Rollins was informed that he and Ricochet hadn't had a singles match against each other in WWE, and they only faced each other before joining the promotion. This prompted Rollins to announce that he would be willing to put his title on the line against the former Intercontinental Champion.
"I would love to do it," said Rollins. "I'd love to get it done one of these times when I've still got the title around my shoulder. I think Ricochet is been long overdue for a World Heavyweight Championship match. We got to get it done one of these days. I'm going to put a word to Adam Pearce, see if we can get that thing done. He's been working ... I love the dude. I think the WWE Universe would be keen to it, I think it'll be a great time."
The last time the two met each other was way back in 2006, when they wrestled at IWA-Mid South's April Bloodshowers event, where Rollins — wrestling as Tyler Black — got the win. Ricochet feels that if he and Rollins were to face each other in the ring, it would be more hard-hitting and strategic than their previous encounter. 
Rollins agreed with Ricochet's assessment, stating that the two have added a lot more muscle, and that a match between them in WWE would be very different from their 2006 match. He is intrigued to see how it would pan out.
Ricochet has had only one chance to win a world title in WWE when he faced then-WWE Champion Brock Lesnar at Super ShowDown in 2020, where he was squashed by Lesnar.