Mickie James Ruminates On What's Special About Impact Wrestling's Knockouts Division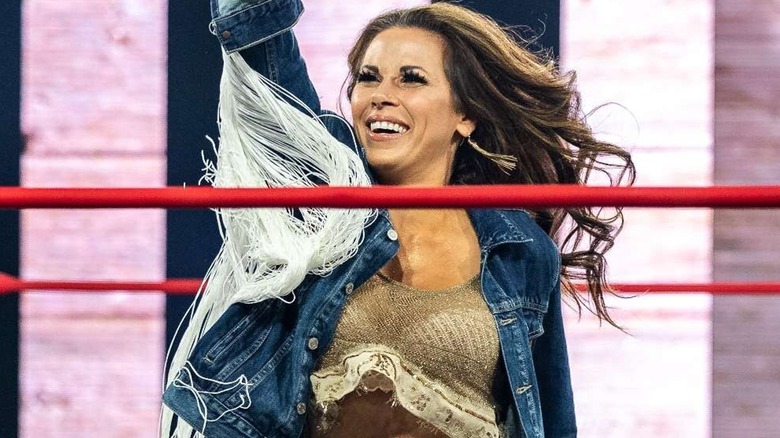 Impact Wrestling
Mickie James is a veteran of the Impact Wrestling Knockouts division, and she's been part of it during various eras in the promotion. In a recent interview with WrestlingNewsCo, the former WWE Superstar explained why the division has always been quality, and she highlighted some of the pioneers who put it on the map.
"The Knockouts division has always been special. It was always special because it was a movement, it was truly a movement... A lot of people don't really throw a lot of credit back to The Beautiful People, who were a massive catalyst in getting the women more time on television. Because the ratings were so high, they would then go like, 'Well, the women need two segments."
James credited Gail Kim and Awesome Kong as wrestlers who helped put Impact Wrestling's Knockouts division on the map. Furthermore, all of these wrestlers and personalities combined brought both talent and variation to the division. James described the Beautiful People, aka Velvet Sky and Angelina Love, as the sexy types who could still kick butt in the ring. Kim, meanwhile, brought a sense of seriousness to the division, and Kong was an anomaly who stood out as unique in women's wrestling as a whole.
James also believes that Impact Wrestling has always been open to giving opportunities to the Knockouts. She recalled being the first woman to perform in a Clockwork House of Fun match and be part of segments with Jeff Jarrett and other top stars. According to James, the Knockouts got to do things that weren't happening during the Divas era in WWE, which started to gain traction around the same time the Knockouts division was taking off.
Of course, James is also a fan of the current era of Knockouts. Following her return at Impact 1000, she revealed that she wants to face Trinity for the Impact Wrestling Knockouts Championship.