Road Dogg Doesn't Know Why It Took So Long For WWE Star To Break Through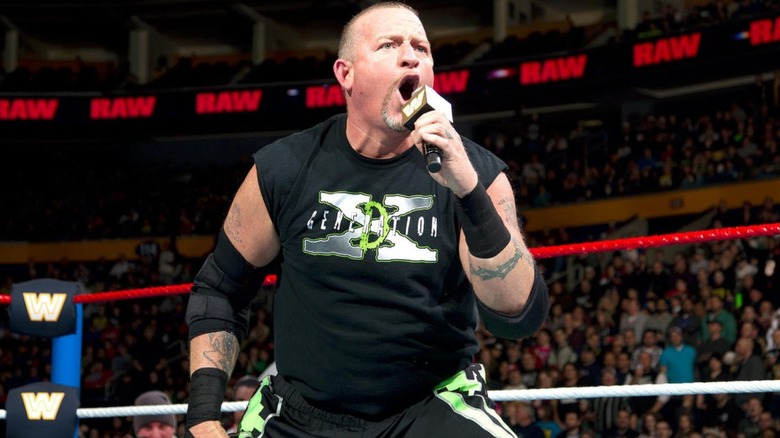 Ronald Martinez/Getty Images
WWE Hall of Famer "Road Dogg" Brian James doesn't know why it took fellow Hall of Famer and wrestling legend Rey Mysterio so long to break through in the business and become the trail-blazing star he is now, because he's the master of a certain type of story. On an episode of the "Oh... You Didn't Know?" podcast, when asked if he thought he was a better sports entertainer than Mysterio, James said there was absolutely "no way" that what he described as his own hot streak of two years even compared.
"Rey Rey is on another level. He made the world, and I don't know why it was problematic to big with, David and Goliath is literally the oldest story in the book and I don't know why it took so long or such a special individual to break every glass ceiling about being a little guy and working in this industry, you know what I mean?" James said. "You literally see Rey and go, 'that's the template. That's the template to be a smaller, I guess I'll say WWE Superstar, but luchador, performer, pro wrestler, whatever you want to say, he's the template.'"
James compared Mysterio to the likes of other luchadors like Eddie Guerrero but kept going back to the current United States Champion's size making him different. Mysterio signed with WWE in 2002 and worked to make a name for himself for years on "WWE SmackDown" before capturing the World Heavyweight Championship at WrestleMania 22 in 2006. Mysterio has faced giants like Kane, Mark Henry, Kevin Nash, and more in his decades-long career.
"Rey is a tiny dude who's worked with every giant in the business and been great with every one of them and made money for 30 years doing it. It don't get no better than that," James said.