Hulk Hogan Recalls Prep Work For His Iconic WWE WrestleMania Match With The Rock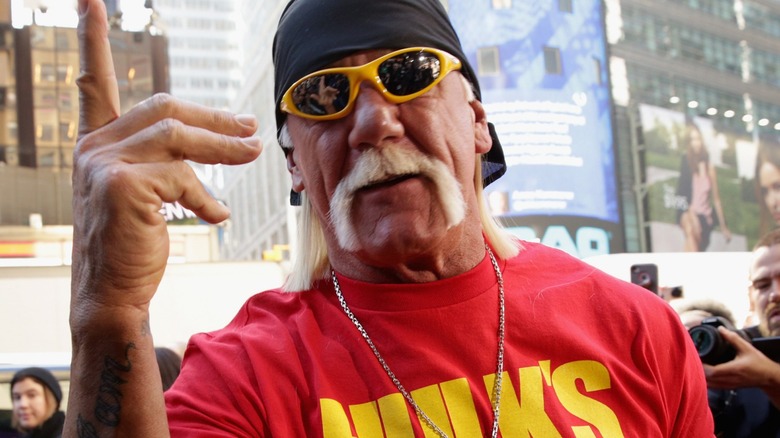 Andrew Toth/Getty Images
WWE WrestleMania 18 is synonymous with Dwayne "The Rock" Johnson and Hulk Hogan meeting in the middle of the ring for the first time ever. The match is regarded as a classic among wrestling fans, and the pre-planning beforehand probably contributed to its success. However, in a recent interview with Sports Illustrated, Hogan revealed that he wasn't happy about being asked to plot out the match before he and Johnson faced off.
"I've never practiced a match in my life," said Hogan. "But when I finished at WCW and went back to WWE, Vince McMahon told me things were different. I remember him telling me that I needed to bring it if I wanted to keep up. There were other changes, too. Vince and Pat Patterson wanted us to go through the match to see what we were doing. That wasn't my cup of tea. To me, the art form is calling it when we're out there."
That said, Hogan did get to work with a legendary figure throughout the rehearsal. He recalled his opponent's father, Rocky Johnson, being present at the time. Furthermore, it meant a lot to Hogan when Johnson told The Rock to listen to his advice during the preparation stages.
"I'd known Rocky Johnson for a long time, even before I started to wrestle," said Hogan. "He was someone I looked up to. And that day, I can still remember standing in the ring talking with Dwayne, and all we could hear was Rocky Johnson yelling, 'Dwayne, listen to Hogan!'"
Hogan's in-ring days are over now, but his WrestleMania 18 opponent might have one last bout left him. If that's the case, Hogan thinks The Rock vs. Roman Reigns would be amazing.