AEW World Champion MJF Thanks The Undertaker For His Reported Recent Positive Comments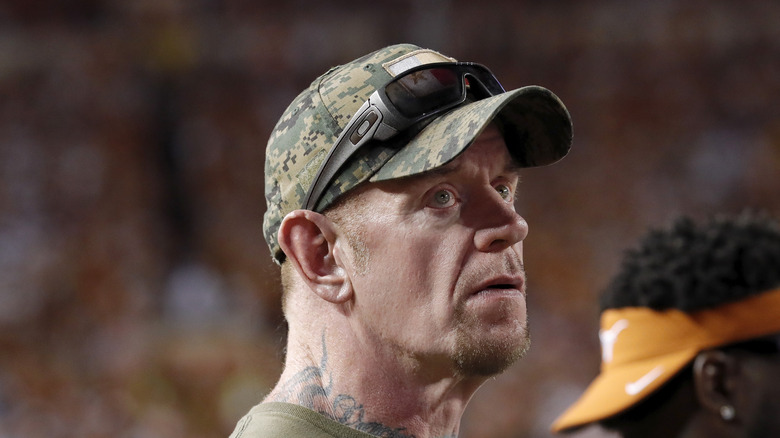 Tim Warner/Getty Images
WWE Hall of Famer The Undertaker reportedly had some praise for none other than AEW World Champion MJF. During his 1deadMAN show in Glasgow, Scotland, The Undertaker reportedly was asked about one wrestler who is working today that he would have wanted to wrestle and he said Maxwell Jacob Friedman.
As seen in the below clip from "The Jim Cornette Experience" podcast and posted by @AEWGold on the X platform, formerly known as Twitter, The Undertaker also said MJF because he loves that he is "solid in the ring" and he "lives his gimmick." Though, while he had praise for MJF, he didn't have so much for the company that he works for, as "The Deadman" reportedly referred to All Elite Wrestling as "second-rate" and said that MJF should leave it as soon as possible.
Undertaker was asked what wrestler from today would he most like to wrestle during his 1deadMAN show, and he answered MJF, because he is solid in ring and lives his gimmick.

Source (I hope this is the first and only time I have to tweet a clip from Cornette😭): https://t.co/Nr5wmAHD0C pic.twitter.com/GwjVYgHWKg

— AIR (@AEWGold) September 24, 2023
MJF reacted to The Undertaker's comments about his in-ring ability and gimmick, by tweeting, "Not many higher honors than being praised by The Undertaker. Thanks, Deadman."
It's no secret that "The People's Scumbag" is one of the most popular stars in AEW due to his mic and in-ring skills. His current storyline with Adam Cole has just added more depth to his character and has fans tuning in each week waiting for him to turn on his "best friend." MJF and Cole are currently the Ring of Honor Tag Team Champions and next Sunday, October 1, at the WrestleDream pay-per-view, they will be defending the titles against The Righteous (Vincent and Dutch). Ahead of the title match, the duo were announced for a segment on the September 27 episode of "AEW Dynamite."