AEW's Tony Khan Addresses Rumors Of Him Buying NJPW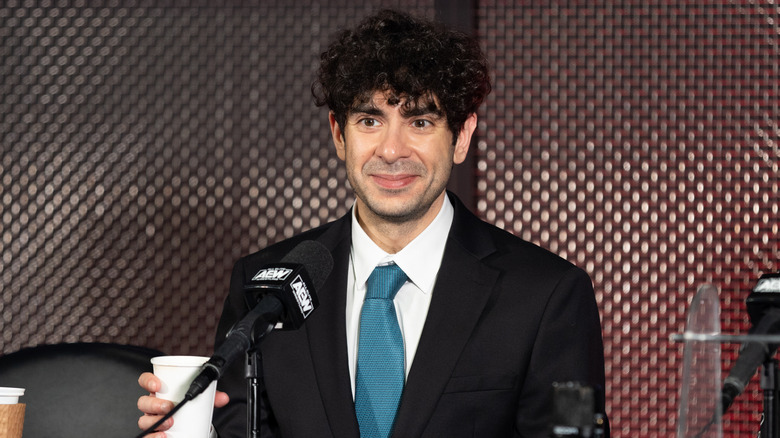 Etsuo Hara/Getty Images
October 1 will see AEW's next and newest pay-per-view, WrestleDream, with AEW CEO Tony Khan previously stating that he created the pay-per-view in honor of pro wrestling legend and the founder of NJPW, Antonio Inoki. 
During the WrestleDream press conference, Khan addressed rumors of him buying NJPW because he said that the event would mark the "end of an era." Khan is appreciative of the speculation around the new pay-per-view but surprised by rumors of him buying the Japanese promotion.
"I think it's really good that we created all that speculation around WrestleDream, but I'm a little surprised how that speculation picked up, specifically the transactional nature of it because we have such a great partnership right now and we are doing such great things with New Japan Pro-Wrestling," said Khan. "I was a little surprised to see that. Overall, I really enjoyed working with New Japan Pro-Wrestling. For nearly two years we have been partners now."
Khan was later asked to clarify his "end of an era" comments, to which he revealed he had no "intentions" to do so, primarily due to pay-per-view sales. 
"I definitely have no intentions of clarifying what I meant by those comments. I want people to order the pay-per-view. But I definitely also never speculated that ... I think the internet kind of ran away with the speculation based on, I don't know what, honestly."
The AEW President also added how there are "people" who help out from NJPW to work shows for AEW or Ring of Honor, and AEW/ROH stars who have wrestled in NJPW events like Dominion. WrestleDream is going to include two major NJPW stars — the inaugural NJPW World Television Champion Zack Sabre Jr., and IWGP UK Champion, Will Ospreay.