WWE NXT Results 10/3 - Becky Lynch Returns, North American Title Rematch, More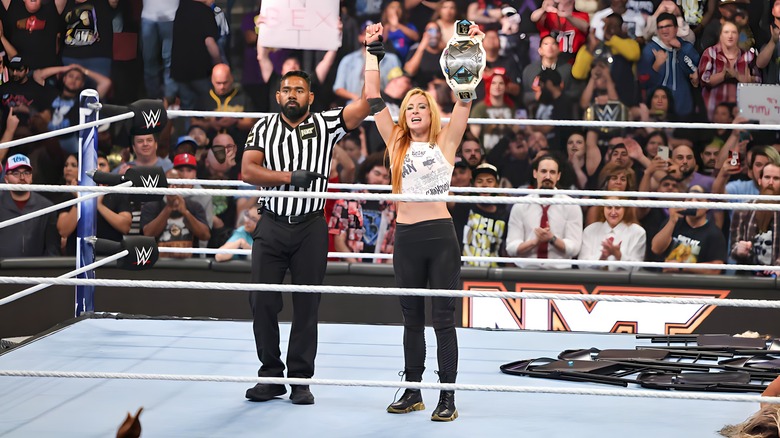 WWE
Welcome to Wrestling Inc.'s live coverage of "WWE NXT!" We're running a little behind tonight, so instead of our usual opening slide preview, let's just jump into things, shall we?
We open with Becky Lynch coming to the ring, "NXT" Women's Championship on her shoulder. She says she's not cleared to compete, but she made sure Tiffany Stratton isn't, either. She's also looking for an opponent at Night One of Halloween Havoc on October 24. Lyra Valkyria hits the ring and tells a story about watching Lynch debut on "NXT" in 2014 and watching an Irish girl from down the street go on to main event WrestleMania. But as much as she dreamed of standing beside Lynch in the ring, she also wonders what it would be like to stand face-to-face.
Indi Hartwell's music hits! She reminds everyone that she never lost the "NXT" women's title, and that the "NXT" audience watched her grow up and get married in the center of this very ring. Hartwell is followed by Roxanne Perez, who tells Lynch she respects her, but that she's not going to sit in the back and rest up. All three women want the title match at Halloween Havoc, so Lynch proposes the obvious solution: a triple threat where the winner gets that match, tonight!
Butch and Tyler Bate vs. Gallus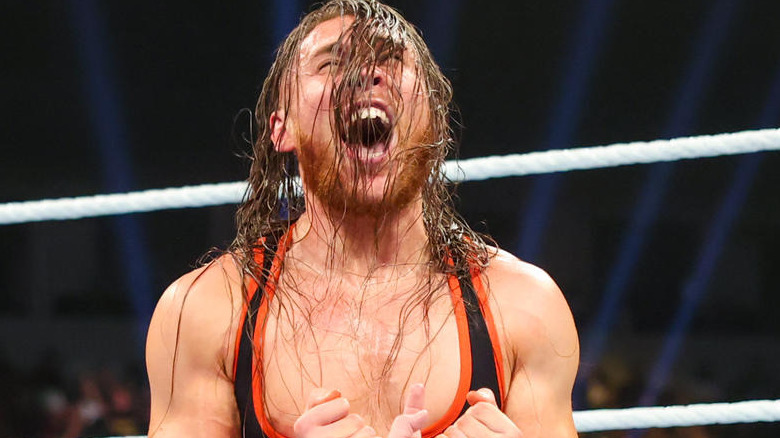 WWE
A video package airs highlighting the eight women competing in the Women's Breakout Tournament. We also see Trick Williams and Dominik Mysterio arriving to the building.
Gallus quickly takes control as the match gets started, isolating Butch in their corner. Butch fights back against Wolfgang, regaining the advantage, twisting his arm and stomping on his shoulder with the arm bent back on the mat. Tyler Bate tags in. Bate and Butch do the same move with the arm stomp, but with one of them doing it on each of Wolfgang's arms. Bate tries to lift Wolfgang, but Wolfgang counters. Bate tags in Butch and they hit a double dropkick on Wolfgang, sending him to the outside. Double arm wrenches to Mark Coffey, then double sucker punches to Wolfgang. Butch and Bate working well together and standing tall as a team as we go to commercial.
Back from break, Coffey and Bate are in the ring. Coffey tags in Wolfgang but Joe Coffey with a cheap shot of Bate from the outside. Bate manages to make the tag to Butch, who hits enzuguiris and dropkicks on both members of Gallus. Butch drops both knees across Coffey's arm, then hits a shining wizard. Butch gets Coffey in position for 10 Beats Of The Bodhran, which he pulls off, but Coffey dodges his next strike and retakes control. Or so he thinks, as Butch hits the X-Plex on Coffey. Bate tags in and hits a standing Shooting Star Press. Wolfgang enters the ring, but Bate gets him up for an Airplane Spin. Butch hits a moonsault to Wolfgang on the outside. Bate tags in, then his a dive of his own on Wolfgang. Butch nails Coffey then tags out again, and the two hit a double team powerbomb on Coffrey for the win.
Joe Coffey immediately comes in and jumps Bate and Butch, but the beatdown is interrupted by Ridge Holland! Holland clears the ring with a headbutt and a Pounce, and the Brawling Brutes and Bate stand triumphant in the ring.
Ilja Dragunov addresses the NXT Universe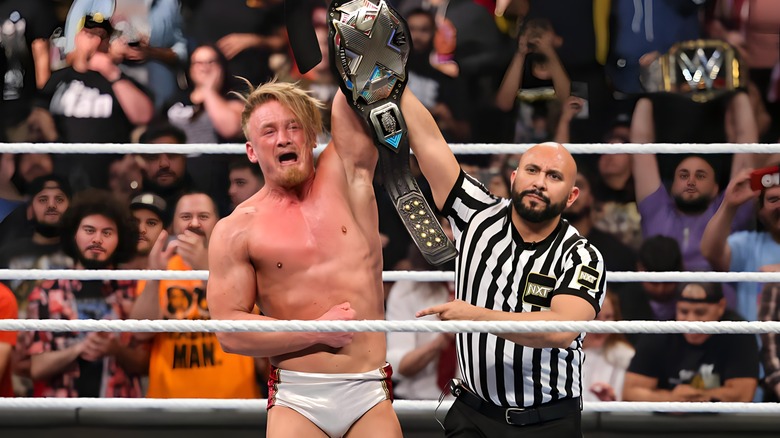 WWE
Your new "NXT" Champion, Ilja Dragunov, makes his way to the ring! He's wearing a suit! He also slipped while climbing the ropes to the top turnbuckle, which was slightly hilarious.
Crowd already chanting "You deserve it." Dragunov lists his nicknames and adds "new 'NXT' Champion." Dragunov praises Carmelo Hayes while the crowd chants "Melo missed!" Dragunov not acknowledging any of these chants or stopping to give them breathing room, which is also hilarious. Dragunov says he's in pain, but he's standing; he will defend the title with passion and defend it with his life. Long live the Czar!
Trick Williams' music hits and he shows up with his new title belt. Trick congratulates Dragunov and says his title win is much deserved. Trick introduces himself as the new "NXT" North American Champion. Crowd also chants "You deserve it." Trick thanks Dragunov for pushing him to another level. Dragunov says he's proud of Trick and says "At No Mercy, you whooped that trick!" They slap hands ... but now Carmelo Hayes is here.
Crowd chanting "Melo missed." Hayes says he appreciates the kind words, and Ilja fulfilled his destiny. Hayes wants to know why Trick is thanking Ilja, because Hayes is the one who has always believed in him, and Hayes is proud of him. Hayes says winning the title is amazing, but defending it is a completely different level. Trick asks if Hayes is saying he's not ready for Dom. Hayes says that's not what he means, but Ilja interrupts him, asking what he means exactly. Actually, he doesn't care, because this is a conversation between champions. Ilja backs off, saying he'll give Hayes a rematch when he's ready. Hayes and Trick are left in the ring, where Hayes tells Trick he needs to focus on Dom. And as it happens, Dominik Mysterio is now coming out.
Dom says Trick should listen to Melo, because it's one thing to win a title and another thing to defend it, especially when it's against Dom. Trick makes fun of Dom constantly talking about Mami. Dom says he's bringing the title back home to Ripley. Hayes says he'll be in Trick's corner tonight to help ward off Judgment Day. Dom asks if he's still in Hayes' shadow even as a champion. Trick tells Melo he's declining his offer. He won the title by himself, and he'll defend it by himself. Tonight, he's going to whoop this trick.
Indi Hartwell vs. Roxanne Perez vs. Lyra Valkyria, No. 1 contender's match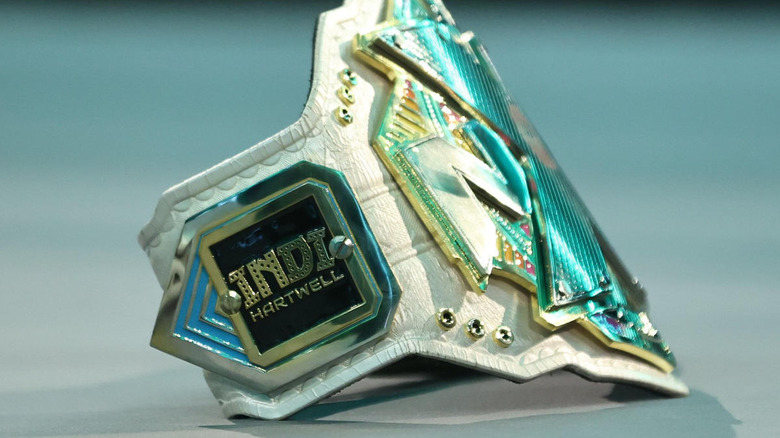 WWE
Perez and Valkyria have been shown getting ready backstage earlier in the episode. Right before this match, we get a video package reminiscing on May 2, 2023, the night Hartwell vacated the women's title and left it in the middle of the ring.
Becky Lynch is on commentary as the match begins. Lyra and Perez team up on Hartwell, delivering a double vertical suplex and throwing her outside the ring before facing off with each other. Some good mat wrestling follows with the two trading counters and pinfall attempts. Hartwell interrupts, hip tosses Perez, and hits a bodyslam on Lyra. Hartwell continuing to attack both women, getting a cover on Valkyria, who kicks out. Indi with a suplex to Lyra, Roxanne breaks up the pin. Hartwell gets Perez on her shoulders, but Perez rolls through and gets Hartwell in a pinning predicament. Hartwell kicks out, absorbs some kicks from Perez, but takes a head scissors. Lyra is back, delivers a kick to Perez that sends her outside the ring, then hits another one. She tries to hit a dropkick on Hartwell, who catches her and drops her on the outside. Perez comes flying out of the ring and nails Hartwell, but Indi absorbs that too and sends Perez crashing to the floor as we go to commercial.
Back from the break, Indi and Lyra are exchanging blows in the middle of the ring. Hartwell tosses Valkyria into the corner but gets dropped with a top rope crossbody from Perez, who dropkicks Lyra. Perez with running strikes on Indi and Lyra in opposite corners; Valkyria tries to run and hit Perez but hits Hartwell instead. Perez drops her, then climps to the second rpe to deliver punches to Hartwell. Hartwell gets her in powerbomb position, but Roxanne rolls through, then rolls through again on a subsequent attempt. Perez doing the "Wesley chokes out Andre" thing from "Princess Bride," but Hartwell counters with the "Andre smashes Wesley on the rock" thing from "Princess Bride." Valkyria with a double dropkick to both of them from the top rope. Lyra delivers kicks to both women; Perez catches one kick and throws in into Indi. Lyra with more kicks, then a Northern Lights Suplex on Perez, which gets her a two count.
Lyra to the top rope, but Indi catches her foot from the apron. Indi and Lyra exchange punches; Lyra wins the exchange but gets caught with a top rope rana from Perez. Indi runs through Perez but only gets a two count. Lyra counters a Hartwell spinebuster for a two count; Indi kicks Lyra out of the ring, but gets caught with Pop Roxx by Perez. Perez is going to get the win ... but Kiana James pulls her out of the ring! Lynch drops James with a kick, but Valkyria has her opportunity. She comes off the top rope with a splash and pins Hartwell to earn the title match at Halloween Havoc.
Lynch and Valkyria stare each other down in the ring, but Tegan Nox's music hits, and she reminds everyone that she has the chance to win the title on "WWE Raw."
Hayes is walking backstage and is approached by Bron Breakker, who says he knows how Hayes feels. Bron knows the crowd's response to Ilja is bothering Melo and advises him to use that frustration and rage to destroy everyone, especially Trick Williams. Melo says to leave Trick out of this; Bron asks where Trick was when Melo lost the title at No Mercy and says Trick was in the back being selfish. He reiterates that he knows how Hayes feels and says "think about it" before walking away.
Gigi Dolin vs. Blair Davenport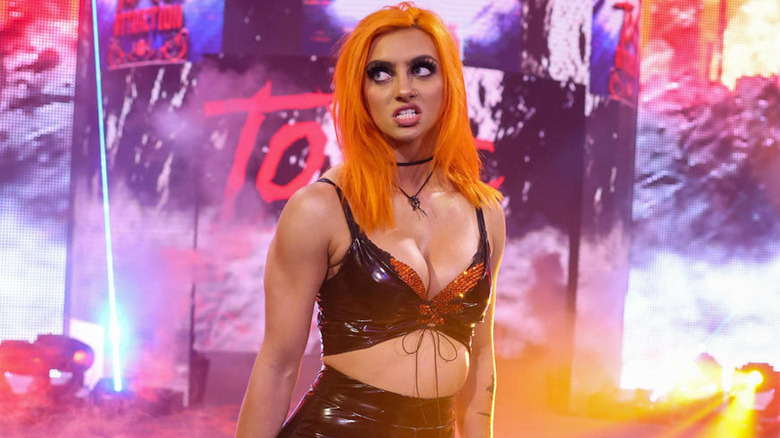 WWE.com
Backstage, Ilja Dragunov gets new sideplates on his title. Corbin interrupts, saying that he wants a shot at the new champion since he holds a victory over Dragunov, as well as a victory over Bron Breakker. Dragunov disagrees. Corbin tells Dragunov to enjoy his title while he still can. 
Up next, a match between Blair Davenport and Gigi Dolin. Dolin attacks during her entrance, battering Davenport on the outside. Davenport gets momentum back on her side using her strength and athleticism to her advantage. Davenport hits a series of double stomps and continues to weaken Dolin. Dolin dodges an attack and gets control back. The two women trade blows.
Dolin builds a head of steam and nearly takes out Davenport with a stiff kick. Davenport gets desperate and tries to use a chair, but the referee tries to stop her. Dolin takes advantage and rolls up Davenport for the pinfall victory. Davenport is furious, choking the referee while yelling "this isn't over!" at Dolin.
Backstage, Kianna James explains why she cost Roxanne Perez a chance at the championship. James says she's going to prove why she's better than Perez in the NXT Women's Breakout Tournament. James also says that former Women's Champion Asuka will be on "WWE NXT" next week, facing Roxanne Perez.
NXT Women's Breakout Tournament Begins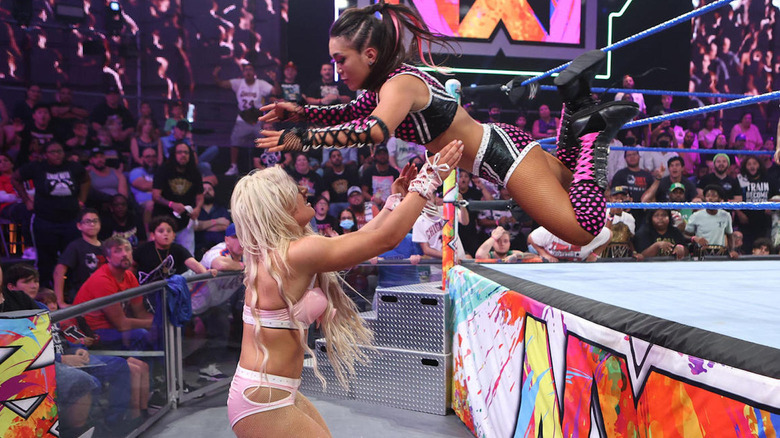 WWE.com
Back in the arena, the NXT Women's Breakout Tournament competitors are introduced on the entry ramp. The first match will be Izzi Dame vs. Kelani Jordan.
Jordan and Dame lock up, with Dame taking control quickly. Jordan uses her athleticism to get momentum back on her side but Dame tosses her into the ropes and hits a vicious knee strike for a nearfall. Dame counters a crossbody with a body slam and dominates Jordan in the corner. Dame stretches Jordan, as a watch party is shown backstage. 
Dame stretches Jordan with a Canadian Backbreaker but Jordan counters with a rollup for a nearfall. Jordan is exhausted but fights back, flooring Dame with a series of dropkicks. Jordan climbs to the top rope and hits a diving crossbody for a nearfall. Dame comes back with a big boot. Jordan slips out of Dame's clutches and hits a slingshot dropkick. Jordan follows up with a split-legged moonsault for the pinfall victory to advance to the next round.
Backstage, Andre Chase and Duke Hudson want to support Thea Hail in her tag match, Hail is reluctant but Jacy Jayne says they should do it, with which Hail immediately agrees.
Back from commercial and another Brian Pillman Jr. promo airs, showing an unseen wrestler watching Bengals footage, WCW Saturday Night footage, and footage of famous families in WWE. Thea Hail and Jacy Jayne are already in the ring for their tag match against Lola Vice and Elektra Lopez.
Hail starts out against Lopez and immediately tosses Lopez around the ring. Lopez overpowers Hail and takes control of the match. Vice tags in and double teams Hail behind the referee's back. Vice stops Hail from making a tag and takes her to the corner. Hail escapes but gets stopped again. Hail finally makes the tag. Jayne clears the ring. Jayne dominates Vice. Vice comes back with a spinning back elbow and tags Lopez. Jayne dodges a spear and hits a rolling elbow. Hail tags in and locks in the Kimura Lock on Lopez for a submission victory.
NXT North American Championship Match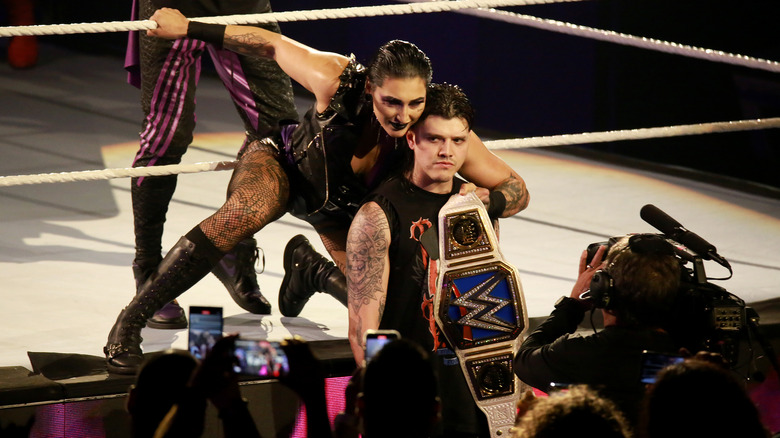 Gladys Vega/Getty Images
In the parking lot, Carmelo Hayes says he's having a match against Bron Breakker next week and will have John Cena in his corner. After the commercial, it is announced that Cody Rhodes will be on next week's "WWE NXT" with an announcement. Trick Williams enters for his match against Dominik, who entered before the last commercial break.
Dominik rushes Williams at the bell. Williams starts to get momentum but Dominik powders out of the ring as we head to commercial. Back from commercial and Judgment Day comes to ringside to watch Dominik regain control against Trick. Dom keeps up the assault but Williams refuses to stay down. Dom hammer throws Williams around the ring. Dom hits a Tope Atomico into the ring. Rhea trash talks Williams as Dominik maintains the assault. Dom goes for Three Amigos but Williams counters with a desperate neckbreaker. Both men are down.
Williams comes back with a series of side kicks but eats a superkick from Dom. Williams hits a spinning powerslam. Williams hits a Book End for a nearfall. Rhea distracts the referee while Dominik DDTs Williams on the Women's World Title for a nearfall. Dominik gets desperate and starts throwing hands. Williams is rocked. Dom sets Williams up and hits a 619. Mysterio climbs to the top rope. Williams dodges the Frog Splash. Williams hits a running knee strike. JD McDonagh interferes but Williams fights him off. Dom distracts the referee. Balor hits Williams with a tag title belt. Dom hits a Frog Splash for the pinfall and is the new NXT North American Champion.
After the match, Judgment Day celebrates in the ring with Dom. Backstage, Paul Heyman announces that he will be in the corner of Bron Breakker for next week's match to counterbalance Cena in Hayes's corner.