Tommaso Ciampa Is Excited For DIY Reunion, Reveals Top Choice For Opponents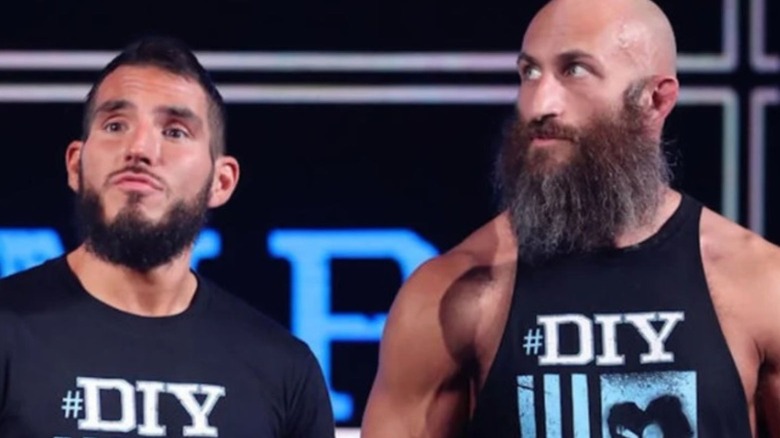 WWE
After months of speculation on where Johnny Gargano was following the star's extended absence, even with "Where's Johnny?" missing posters splashed across social media by his best friend, the star made his return on an episode of "WWE Raw" to save former DIY tag team partner Tommaso Ciampa from an attack by Imperium. Now that the tag team, made famous on "WWE NXT," is seemingly back together, Ciampa offered his thoughts on the reunion on an episode of the "After the Bell" podcast.
During the conversation, Ciampa said that he recognized their team never "really got going" on the main roster. DIY had a few matches on the main roster years back, but he said he wasn't sure how many people would actually remember that. He said DIY has never been talked about on the main roster, and he came onto the scene without Gargano.
"I came up, I was doing stuff with the Miz and I got that little bit of a rub with the US Title opportunity and then I had to go away for surgery. By the time I'm gone Johnny's coming up, he's doing his own thing. So together, there's been no tease for DIY. So the fact that Johnny could come out and San Jose could be chanting 'DIY' and give the reaction that they gave when we hugged," he said.
CROWD CHANTING 'DIY'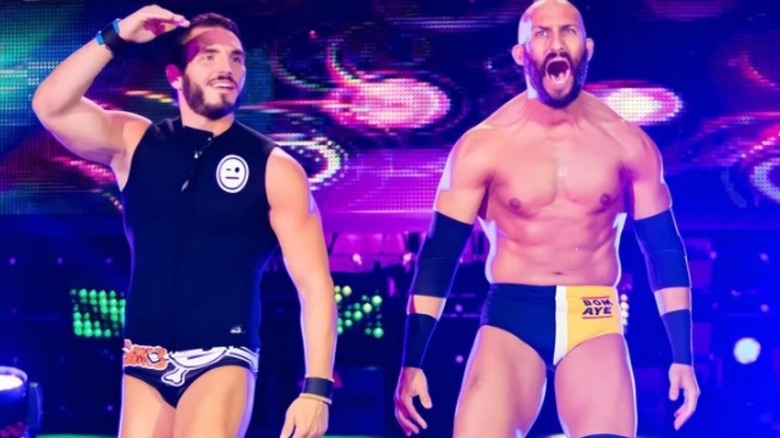 WWE
Though the "WWE Raw" broadcast cut out before the viewers at home could see Ciampa and Gargano hit a double superkick, Ciampa mentioned on "After the Bell" that getting on the mic following the encounter to talk to fans was amazing. 
"To have that whole place saying, 'DIY,' it was one of those moments I was like, 'Wait, we've done nothing to train you people.' In one night, we tried to build me as a viable contender [for the Intercontinental Championship] and we just brought Johnny up. No build, no expectation. So to have that crowd react and go, 'Oh, we know that they're called DIY,' that to me was a big success," Ciampa said. "Because that was like, 'Shoot, that's with nothing. That's with no machine behind us. That's with no anything. We start to go now and they start to see us on a weekly basis, together, whether that be backstage promos and interactions because we can have a lot of fun that way, or we have some matches where we have some time because that's what DIY was in NXT."
Ciampa said they have a great relationship with their niche audience, but now he and Gargano are ready for a global audience as DIY. He said they need the audience to buy into the idea that DIY can win the tag team championships and be main eventers. He said he's excited for the opportunities and new matchups the main roster brings.
"KO and Sami Zayn is obviously a dream match that I see a lot, brought up on the internet," Ciampa said.
If you use any quotes from this podcast, please credit "After the Bell" with a h/t to Wrestling Inc. for the transcription.