Trish Stratus Draws Comparisons Between Herself And This Rising WWE NXT Star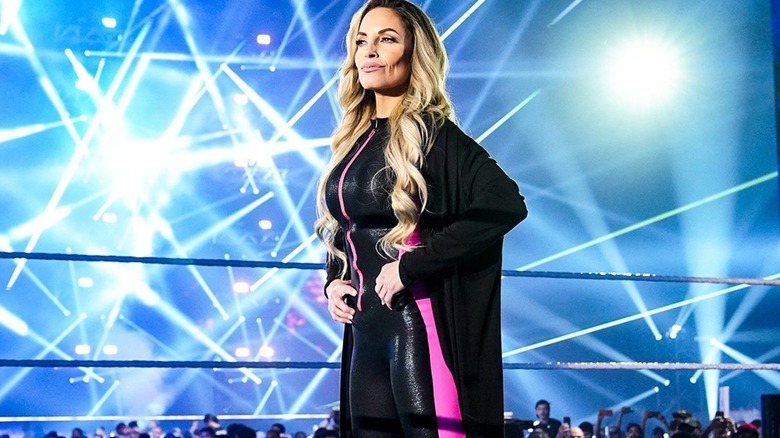 WWE
As a member of the "WWE NXT" brand, Tiffany Stratton has enjoyed plenty of success. The former "NXT" Women's Champion is carving her own path in the company, but she's also received comparisons to Trish Stratus due to her look. Stratus has noticed these parallels too, but she believes that they're similar in other departments as well.
Stratus discussed Stratton's meteoric rise on a recent episode of "Hall of Fame," and the conversation led to her sharing some stories about her own days as a woman trying to make a name for herself in WWE.
"I see the same sort of things, and she said this, 'I have to prove myself because people expect a certain something out of people who look this way.' That's just the way it is. I wouldn't say Tiffany and I are the girl next door, more bombshell. There is a lot of pre-judgment and pre-conceived notions about what that person or personality can deliver."
Stratus said that she had to prove herself to the WWE locker room when she first joined the company, but she thrived on knocking down barriers and shattering every misconception about her. What's more, the WWE Hall of Famer believes that Stratton has a similar mentality, as evidenced by her performances in matches that require her to step up to the plate and contend with WWE's top Superstars.
"I know that Tiffany has had a similar journey, just because of the way she looks and her lack of background, just like I had, I didn't come from a traditional background or upbringing. We are both in that same predicament. Having those chances and taking those opportunities, like she did with her Extreme Rules match [against Becky Lynch], taking those opportunities and seizing them."