AEW's Ricky Starks On Whether A 5-Star Match Rating From Dave Meltzer Matters To Him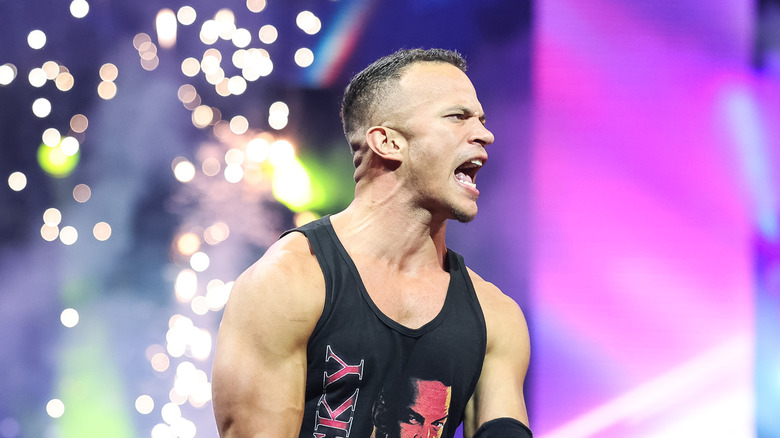 AEW
Ricky Starks versus Bryan Danielson in a No DQ Strap match at AEW's All Out pay-per-view on September 3 received a five-star match rating from veteran wrestling reporter Dave Meltzer. Starks was asked if Meltzer's ratings mattered to him during an interview with the "Battleground" podcast.
"It was cool that Dave [Meltzer] thought that highly of my match," Starks said. "It's pretty cool, I guess. A little cool thing to put in my hat there."
The Starks-Danielson No DQ Strap match at AEW All Out 2023 saw the "American Dragon" emerge victorious via technical submission. Danielson forced the current AEW World Tag Team Champion to pass out after choking him with the strap. Starks spoke about his thoughts on that match.
"Overall, I thought the match — while going into it, I didn't really, I don't know, I didn't have much expectations," Starks said. "There's a lot surrounding everything leading up to that match, and I guess for me, I just didn't know what to expect. That was my first strap match, obviously, and I really felt like, as a competitor, I stood on my own, and that was like, you know, the true real glimpse of what you had been seeing over the summer on 'Collision,' where, you know, you're like, 'Damn. This is it. This is the dude.'"
'I'm glad that a lot of people enjoyed it'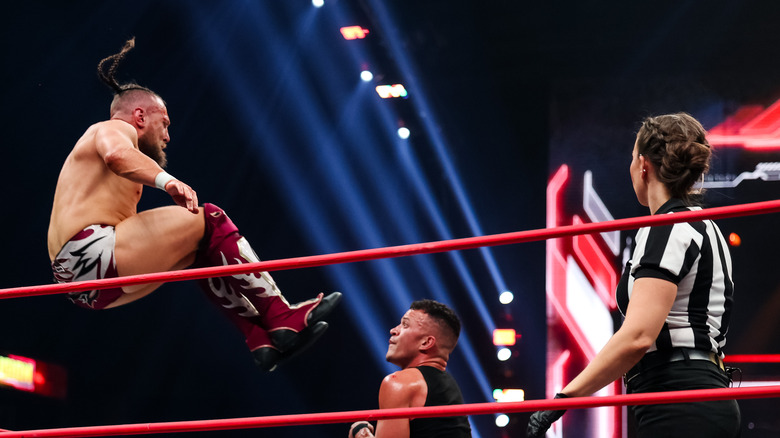 AEW
"I work very hard," Starks continued. "I know my style may not be for everybody. I know some people who call me boring or, as a young kid, say, 'mid.' But I feel like there's some people out there that do like me, and I'm cool with that, and I work hard in every match that I have, and that match was no different.
"And I took my fair share of punishment, and I'm glad that a lot of people enjoyed it. I'm glad that people thought highly enough of it. The reception that I got, especially from people backstage and people that texted me, was very overwhelming. The next day, I was very overwhelmed with how it was received."
Starks mentioned that Danielson's praise for him during the AEW All Out 2023 post-show media scrum meant a lot to him, especially as a performer. The former FTW Champion said that his AEW All Out 2023 experience was the "perfect moment" that he could hold onto and cherish.
'I'm not wrestling to try to win the respect of everybody'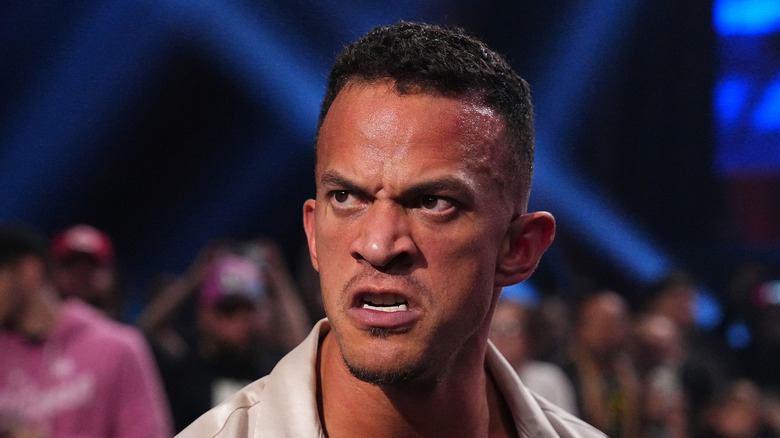 AEW
Starks has had a busy year so far in Tony Khan's promotion, winning the men's 2023 Owen Hart Foundation Tournament, working with CM Punk, defeating Chris Jericho at AEW Revolution 2023 and on "AEW Dynamite," overcoming Wheeler Yuta at the inaugural AEW WrestleDream event, working with Danielson, and capturing the AEW World Tag Team Championship with Big Bill on "AEW Collision" this past Saturday night. Does Starks feel he's earned everyone's respect yet?
"I don't think we're there yet," Starks said. "But I'm not wrestling to try to win the respect of everybody, right? I feel like that is an impossible task. I do feel like this year has been kind of bumpy, as always, and the opportunities that I've had have been good, but it's always about the stuff that happens afterward, right? That's a big thing for contention is, like, 'Alright. Let's see how this kind of plays out.'
"I do think some people are like, 'Wow. Alright. Ricky is more than what we thought.' I'm not saying every match that I have, people are gonna rate it five stars or whatnot. That's just not gonna happen, but I would at least hope if I don't earn someone's respect, at least I have someone who says, 'One thing he does is he works very hard. He does not phone it in.' Every match I genuinely work as hard as I can and give it my all."
If you use any quotes from this article, please credit "Battleground Podcast" with a H/T to Wrestling Inc. for the transcription.