Why AEW's Adam Copeland Likens Watching Wrestling While Retired To 'Pulling Off A Scab'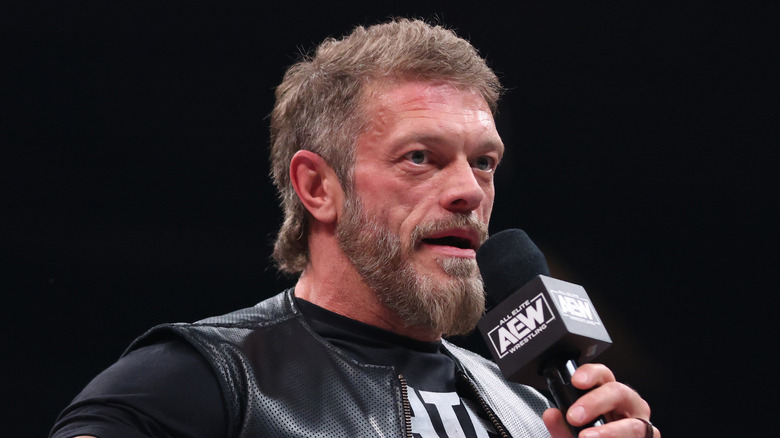 AEW
During an appearance on the "Talk is Jericho" podcast, All Elite Wrestling's Adam Copeland, formerly known as Edge in WWE, spoke about being forced to retire from the ring in April 2011 due to injury. Copeland came out of retirement in January 2020.
"It was gone," Copeland said. "Wrestling was done for me. I had to come to terms with that fairly quickly. And then, luckily, acting kind of fell on my lap, and I got to do 'Haven,' and one episode turned into 41, and then I realized, 'Okay. I love this process.' It's still a creative. It's still in the arts. It's still flexing those muscles and the brain. There's some different stuff and some stuff that started to atrophy because it's not live. Once I came to terms with those things, 'That felt like a good take, but I'm not going to see it for two years [laughs], so I hope it's as good as I remember it.'
"But nine years — that's huge. I can't say I really thought too much about it. I couldn't. But I also couldn't watch it too much. I couldn't be close to it. And then little by little, that started to change, and I kind of got past the point where I felt like I was pulling off a scab every time I watched."
Copeland said that people would have wondered why he couldn't wrestle again after taking an uncontrolled bump off a mountain bike while filming an episode for Sheamus' "Celtic Warrior Workouts" YouTube channel. He noted that he'd also been doing his own stunt scenes and fight scenes while acting. Copeland claimed that it wasn't until his mountain bike accident that he started to get his "fitness journey back on track" in preparation for a possible return to the ring.
If you use any of the quotes in this article, please credit "Talk Is Jericho" and provide a h/t to Wrestling Inc. for the transcription