Photo: Former WWE Talent Rick Boogs Shows Off The Results Of His Time In The Gym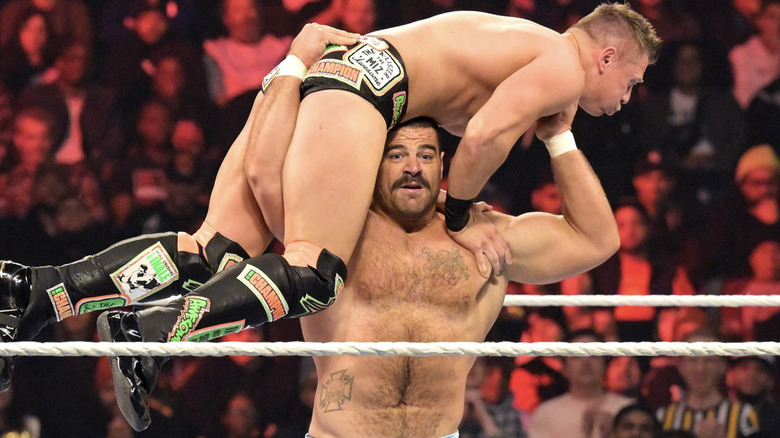 WWE
Rick Boogs was unfortunately one of the WWE superstars let go from the company during a round of mass talent cuts in September. Despite the setback in his career, it doesn't seem to have set back his progress in the gym.
Boogs took to social media on Thursday to share a new photo of his physique. He wrote, "3 shades of camo, 1 voluptuously palatable pump."
3 shades of camo, 1 voluptuously palatable pump pic.twitter.com/qp0ckgsLdu

— Eric Bugenhagen (@rickboogswwe) October 11, 2023
The impressive picture drew responses from several of Boogs' colleagues. WWE commentator Corey Graves responded, "Dude. Did you eat you?" Mr. Money in the Bank Damian Priest also chimed in with, "Take it easy," while former "NXT" signee EJ Nduka commented, "Do you even lift?!"
It remains to be seen what is next for Boogs as he is in the midst of the standard 90-day non-compete clause that comes with most WWE contracts. He signed with the company in 2017 and reported to the Performance Center in Orlando. Unfortunately, his first year was interrupted by an injury that put him on the shelf for months. Upon returning, Boogs grew his popularity on the "NXT" live event loop before he eventually made his way to "SmackDown" in 2021.
A partnership with Shinsuke Nakamura led to a "SmackDown" Tag Team Championship match against The Usos at WrestleMania 38, but Boogs once again suffered a leg injury in that bout that kept him away from the ring for nine months. Boogs returned to "Raw" this past January, but his televised appearances were few and far between.