Kevin Sullivan Discusses Cody Rhodes' Intelligence & Relationship With Father Dusty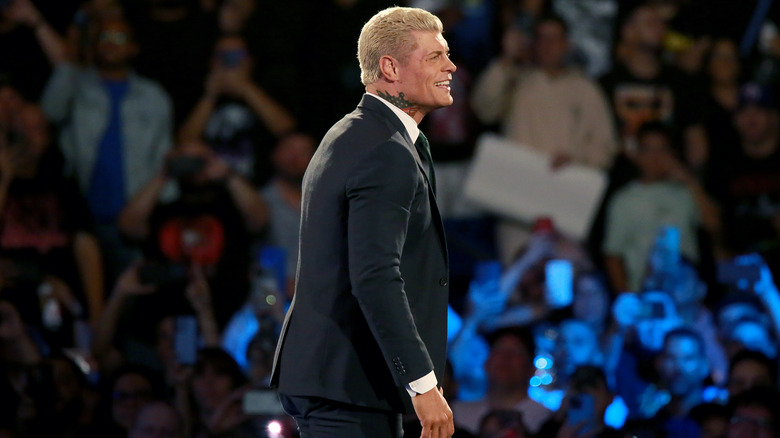 Gladys Vega/Getty Images
Wrestling legend Kevin Sullivan thinks that Cody Rhodes has a bright future in WWE. On the latest "Tuesdays with the Taskmaster," Sullivan said that the "Finish The Story" storyline that Rhodes is currently embroiled in — where he seeks to win the title his father "The American Dream Dusty Rhodes" never held — has given Rhodes the perfect opportunity to go to the next level.
"Cody is a very smart guy. The reason why I say that was he came out of Dusty's nuts ... Finishing the story? That's no bull sh**," Sullivan explained. "He really wants to finish the story for his father." 
Sullivan said that when he saw the promo where Rhodes showed the picture of his father with the WWWF Championship, he could tell that the desire he saw from Rhodes was real.
"He loves his father," Sullivan continued. "He was raised by his father, sitting at the table, 'What are we gonna do two weeks from now?' By osmosis, this gentleman has learned quite a bit." While Rhodes is currently the WWE Undisputed Tag Team Champion, Sullivan thinks that the former AEW TNT Champion is still laser-focused on the world title.
"He is on a quest for the Holy Grail," Sullivan explained. "I've never seen a son so ... in love with his father and he's rightfully so." He also thinks Cody's brother Dustin is the same way in both aspects, intelligence and respect for their father, but "The Natural" has aged into an elder statesman, while Rhodes is in his prime, and seemingly in the right place at the right time.