Former WWE Team The Grizzled Young Veterans Say They're Back, Sick Of 'Boring Scripts'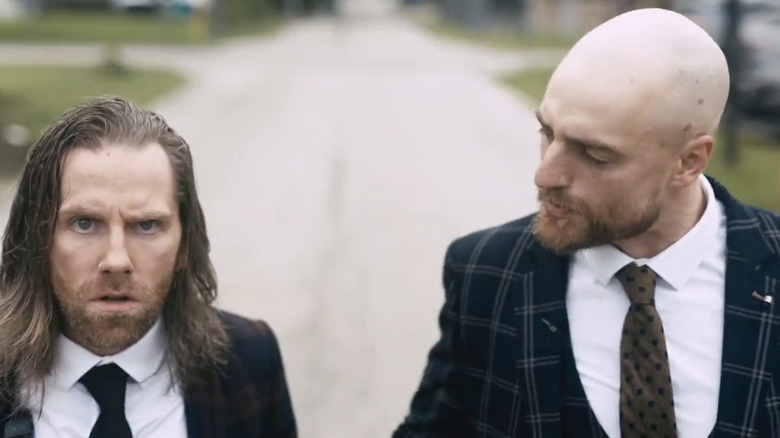 James Drake/Twitter
The Dyad is officially dead and the Grizzled Young Veterans have returned.
James Drake and Zack Gibson took to Twitter to announce that they no longer needed multi-camera promos, spooky lighting, or contact lenses, and declared themselves "Grizzled Young Veterans" once again, making good on their promise to address their future on Saturday afternoon.
❌ No production crew.
❌ No spooky lighting.
❌ No contact lenses.

Me @ZackGibsonGYV are proud 𝗣𝗿𝗼𝗳𝗲𝘀𝘀𝗶𝗼𝗻𝗮𝗹𝘀 𝗪𝗿𝗲𝘀𝘁𝗹𝗲𝗿𝘀.

We are the
𝗚𝗿𝗶𝘇𝘇𝗹𝗲𝗱. 𝗬𝗼𝘂𝗻𝗴. 𝗩𝗲𝘁𝗲𝗿𝗮𝗻𝘀. pic.twitter.com/D9VeJo4WJw

— 𝐉𝐚𝐦𝐞𝐬 𝐃𝐫𝐚𝐤𝐞 (@JamesDrakePro) October 14, 2023
Dressed simply and fashionably in menswear and dress shoes, the former WWE NXT Tag Team Champions said that they had spent their time in WWE, living what they called "the big life," and decided it wasn't for them.
"We are sick of living the safe life," Drake said. "We are sick of reading the same old boring scripts that go absolutely nowhere." The newly-minted free agents made it clear that they intend to continue their dominant run as a tag team no matter where they go.
"The boys are back in town," Gibson concluded, quoting the famous Thin Lizzy song of the same name.
Drake and Gibson requested their release earlier this year but were denied. Initially brought into the WWE NXT UK promotion under their regular ring names, as the brand's initial tag team champions, the team was eventually folded into Joe Gacy's Schism faction alongside Gacy and Ava Raine, with the pair renamed Kip Fowler and Reid Jagger and redubbed The Dyad. The tag team opted to wait out the rest of their contracts, which expired recently, and despite asking for their release, the pair were a regular feature on "NXT" until their loss to the Creed Brothers in a steel cage match on August 29. Before that The Dyad had even held a win over The Creeds in a "Loser Leave Town" match which led to the steel cage finale.