Booker T Explains Why He Says AEW's Tony Khan Thinks Like WCW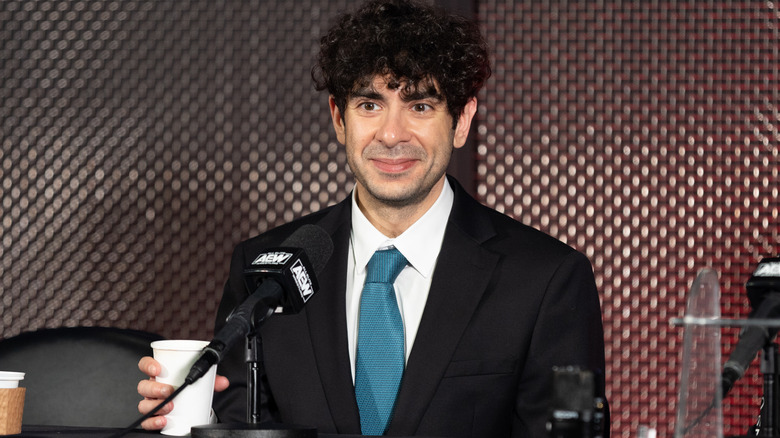 AEW
Tony Khan's social media posts were the talk of the wrestling world last week, especially after he took shots at "WWE NXT" for drawing under one million viewers, despite featuring The Undertaker and John Cena. Meanwhile, "AEW Dynamite, which went head-to-head with the show last Tuesday, only averaged 609,000 viewers. Booker T, meanwhile, believes that Khan should stop focusing on WWE as he's noticing some similarities between Khan and WCW.
Speaking on the "Hall of Fame" podcast, Booker asked why Khan is focused on the competition. He compared the situation to WCW, which was known for mentioning WWE shows on episodes of "Nitro" and "Thunder" during the Monday Night Wars.
"I don't know what Tony Khan's modus operandi is, I don't know what his fixation on WWE is but I've said this once, I'll say it a thousand times – Tony Khan got a hell of a product, he's got a hell of a thing going but I really think that just like WCW, they focused on 'WWE, WWE', everything they were doing, they were trying to counterprogram every Monday night. What are they doing? What are they doing?' And I really think that WCW thought themselves right out of the war because they were focused on winning and beating WWE when they had a hell of a product already."
What's more, Booker said that Vince McMahon would never behave this way on social media. While he doesn't mind others doing it, McMahon isn't the type to give free press to a competitor. Khan, meanwhile, unloaded on McMahon last week by referencing his history of sexual misconduct allegations in an X (formerly known as Twitter) post.
Booker also commented on the size of AEW's roster, noting that Khan has a tendency to sign more talent and let them disappear. The WWE Hall of Famer believes that this is also similar to some of WCW's old habits, as Eric Bischoff also signed a lot of performers and set a bad blueprint in the process.
If you use any quotes from this article, please credit "Hall of Fame" with a h/t to Wrestling Inc. for the transcription.