AEW's Tony Khan Calls 2 WWE Streaks Kaput After Tuesday Night's NXT-Dynamite Faceoff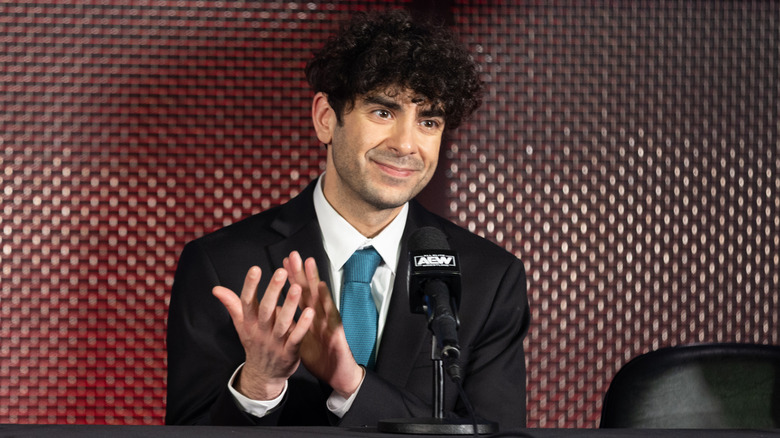 AEW
Earlier this week, "AEW Dynamite" and "WWE NXT" went head-to-head for the first time since the "Wednesday Night Wars" and the ratings battle went in favor of WWE. "NXT" brought in an average of 921,000 total viewers with a 0.30 rating in the 18-49 demographic, while "Dynamite" had an average audience of 609,000 with 0.26 in the key demo. About 36 hours after the two shows went off the air, AEW co-owner Tony Khan is still engaged in discussion over the ratings on X.
"This week, [two] active decades-long ratings streaks from [two] great legends were ended," Khan wrote. "With all due respect, until this week's head-to-head AEW on TBS [versus] WWE on USA, neither John Cena nor Undertaker had ever been on a WWE show with under 1 million total viewers [plus] under [400,000] in the demo."
The reaction to Khan's post has been strong, with plenty of criticism toward as well as some amusement with his over-the-top statistics and tone. Khan has been particularly active on the social media site this week, both ahead of Tuesday's "Dynamite" as well as in the aftermath. The AEW President made several announcements on X before the show, including the existence of a pre-show match and a commercial-free stretch for at least the first half-hour.
Khan has also responded to fans on X over the course of this week. That includes referencing the sexual assault allegations made in the past toward WWE's Vince McMahon, and referring to either Paul "Triple H" Levesque or Shawn Michaels as a "bald a**hole" after reports the two wanted to send a message with Tuesday's "NXT." At the same time, Khan has had some more light-hearted interactions over the last few days, connecting with several fans over shared experiences of having their mothers in the hospital.