Karrion Kross On Why He Called Out A Future WWE Hall Of Famer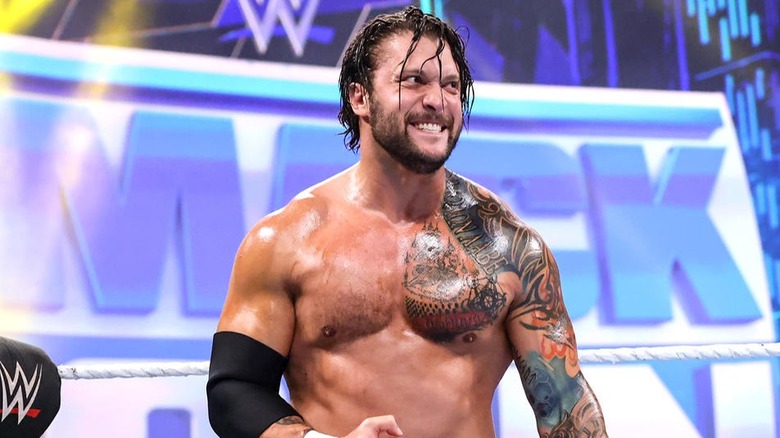 WWE
Karrion Kross got the internet wrestling community buzzing in 2019 when he decided to call out Dave Bautista for a future match at GCW's Bloodsport event. It's something that obviously never happened, and he admitted to "Insight with Chris Van Vliet" that it's crazy how people attach context that might not be true. 
Kross revealed that it was never his intention to call out the future WWE Hall Of Famer, but he'd found out that the "Animal" was staying in the same hotel as the event, so he decided to make the most of it and try his luck. That's because Kross felt that he couldn't imagine Bautista didn't still love professional wrestling in some form, even though he was done with the sport at the time.
"I go out there and do the match with Nick Gage, choke him, get up, and call Batista out with the intention, hoping that if he really didn't want to be retired and he wanted to do something that he's never done before, that would be in his wheelhouse that people have never seen him do, which would be like shoot-work stuff," he said. "I would have been happy to do that."
Of course, with retirement in wrestling the phrase is often 'never say never,' and Kross admitted he was bummed to hear Batista was finished. However, he stuck to his word with his WrestleMania 35 match being his last one, even though Kross hoped he could've enticed him out.
"I was a huge fan of his growing up," he said. "Maybe he just needs something creative that he would be really interested in, because that's all of us. You can hook us back into wrestling when we're retired if there's something that you're genuinely interested to do creatively, and Dave has a shoot background."
If you use any quotes from this article, please credit "Insight with Chris Van Vliet" with a H/T to Wrestling Inc. for the transcription.