Kevin Nash Discusses Tony Khan's Recent Tweets & And Controversial AEW Segment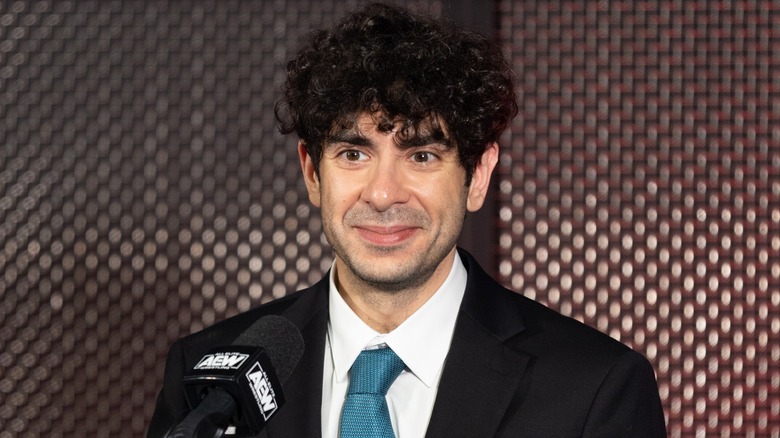 AEW
In light of Tony Khan's recent Twitter tirade — which included jabs at Triple H, Vince McMahon, and Shawn Michaels — Kevin Nash has urged the AEW President to not quit his "day job" as a front office executive of clubs such as Fulham F.C. and Jacksonville Jaguars. 
"No wonder Jade [Cargill] left [AEW]," Nash said on his "Kliq This" podcast. The WWE Hall of Famer believes Khan only compounded the negative press he's been receiving by producing a controversial angle on last week's "AEW Dynamite" that saw Juice Robinson threatening to assault MJF with a roll of quarters. The segment — widely perceived to be antisemitic — should have never hit the airwaves at the time of the ongoing Israel-Palestine conflict, Nash opined. 
"The antisemitic hate is rife," Nash continued. "Do we even want to put a f—ing match anywhere near something that could ... it's like, there's heat, and there's cheap heat. You can go to the Humane Society, get a bag of kittens, and have them go around the ring and smash them with an aluminum baseball bat — yeah, the people will moan, they'll throw up, and there'll be heat ... but it's not the kind of heat you want."
When asked if he would have been okay with AEW producing the controversial segment at a less sensitive time, Nash had a rather diplomatic response. "In a world without hatred, it'd be okay to do the quarter thing," Nash stressed. "Yeah, because, it wouldn't mean anything. We don't live in that world." 
In the aftermath of the segment, MJF released a statement clarifying that the angle was meant to touch upon an incident from his life as opposed to promoting hatred towards any community. Reflecting on MJF's post, Nash absolved the AEW World Champion for doing his part for a wrestling angle. "I don't blame him ... I still think that [in] a scripted sports entertainment segment ... the Jewish rebuttal has to be so PR cleansed because you can't just go off of hatred to what they've done to your people."